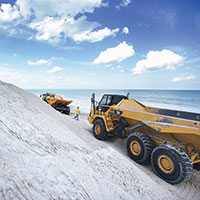 Wabasso Beach closing for sand project
STORY BY LISA ZAHNER (Week of February 3, 2022)

Surfers hoping to spend their spring break riding waves at Wabasso Beach may find the park gates locked and the beach teeming with dump trucks and heavy equipment, as county crews will close the beach at dusk this Friday.
"The contractor will lock the gate that evening following the park closure, and will mobilize into the park on Saturday, Feb. 5. On-beach construction activities and on-road sand deliveries will start on Monday, Feb. 7 at Wabasso Beach Park and move south, county spokesperson Kathleen Forst said.
Forst said it's uncertain how many thousands of cubic yards of sand will be placed just north and south of Wabasso Beach Park.
"Pre-construction surveys are currently being conducted to determine the amount of sand material needed based on existing conditions. Current estimates predict that approximately 40,000 cubic yards of sand will be placed on the beach to complete this portion of the Sector 3 Phase 2," Forst said. "Wabasso Beach Park will reopen following completion of construction activities."
Construction will continue out of Turtle Trail Beach Park in Indian River Shores until April 30. Seagrape Trail Beach Park, which temporarily reopened on Jan. 20, will need to close again so crews can repair asphalt.
The dates for that have yet to be determined.
The Wabasso sand dump is part of the second phase of the North Barrier Island "Sector 3" beach replenishment project. For management purposes, the county beaches are divided into seven sectors starting at the Sebastian Inlet and going south to Round Island Park and the Indian River-St. Lucie county line. North county beaches and dunes have been shored up three times in the past dozen years, as storms keep washing the sand away.
The total two-phase project, when completed, will have added a total of more than 600,000 cubic yards of sand to a 6.6-mile stretch of north county beaches.
South island beaches in Sector 7 are on the list to be replenished in late 2022 after sea turtle nesting season concludes. But so far, county staff has been unable to secure construction easements from the required 90 percent of adjacent property owners.
Design, permitting and advertisement for contractors to bid on the job are all expected to begin this summer.
The county's total fiscal year 2021-22 budget for beach restoration is $16.3 million, of which $14.1 million is provided by or reimbursable through state grants. That's down from last year's beach restoration budget of $26.2 million, of which $20.9 million was derived from state grants, according to county financial reports.