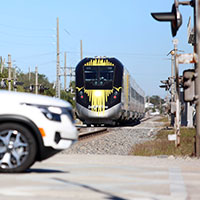 Brightline passenger trains starting test runs through county
STORY BY GEORGE ANDREASSI (Week of January 20, 2022)

Brightline trains were scheduled to start practice runs through Indian River County on the Florida East Coast Railroad tracks this week in anticipation of completing the high-speed passenger line's $2.7 billion extension to Orlando by the end of the year.
For these test runs, the Brightline passenger trains were to operate at a maximum speed of 60 mph, same as the FECR freight trains, from Palm Beach County to Brevard County and back.
The route includes the St. Sebastian River Railroad Bridge, a 1,625-foot-long structure built in 1926 that Brightline is replacing with twin concrete railroad bridges.
But the trains were to carry only crew members, not passengers, company spokeswoman Katie Mitzner said Monday.
Brightline expects to operate one qualifying train per day on the FECR tracks, so engineers and conductors can learn about the new route and its railroad crossings, Mitzner said.
"Operating a train requires engineers and conductors to be intimately familiar with the rail corridor, including road crossings, signals, curves and speed restrictions," Mitzner said.  An experienced manager who has already been qualified for the route will provide instruction and oversight to the train crews.
The first train was to leave West Palm Beach 7 a.m., Tuesday and reach Micco by 10 a.m., Mitzner said. The train then was to return to West Palm Beach.
After that, Brightline planned to operate qualifying trains on the FECR tracks from West Palm Beach to Cocoa and back once a day, Mitzner said.
Brightline has been constructing a second track and improving railroad crossings on the FECR tracks from West Palm Beach to Cocoa for nearly two years to meet Federal Railroad Administration regulations for trains that will travel up to 110 mph.
Brightline is also building new train tracks alongside the Beachline Expressway/State Road 528 from Cocoa to Orlando International Airport – a stretch where trains are to travel 125 mph.
The passenger trains travel 80 mph between Miami and West Palm Beach.
Brightline resumed operating 32 trains per day in South Florida, 16 in each direction, on Nov. 8 after halting service March 25, 2020 at the start of the COVID-19 pandemic.
Sometime in 2023, Brightline anticipates zipping 32 trains per day through Indian River County, including the Downtown Vero Beach business district and Historic Roseland, en route from West Palm Beach to Orlando.
Maria Leclair, whose small house on 137th Court in Roseland abuts the train tracks, said she, her husband and their home have been shaken to the core by the massive cranes conducting pile driving operations just feet away.
"They're just banging away," Leclair said Monday. "We've got three giant cranes right here putting pilings in. It's getting closer to the house, so that's why the banging is really intense now.
"It goes right through your whole body," Leclair said about the vibrations from the pile driving. "You can feel your body shaking. Literally, your body is shaking."
"Yesterday morning, it was dark and they were out there banging. It was just before sunrise on a Sunday. The house, I mean, it was shaking so bad. The walls shake, the floors shake. The dishes are rattling in the cabinets. The sliding glass doors are shaking.
"It takes my joy away. It really has," Leclair said. "Before when they were out over the river, it wasn't as bad. But now it's literally in the backyard. They pulled down all the trees from our house to the river. The scenery has completely changed. The train, I mean, it's in our yard now."