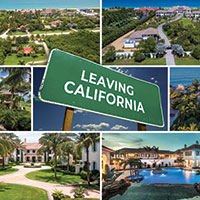 California buyers fuel high-end real estate boom
STORY BY STEVEN M. THOMAS (Week of January 20, 2022)

In a dramatic turn of events worthy of a Hollywood thriller – or maybe a romance – California buyers suddenly discovered Vero Beach in 2021.
In a very big way.         
Up until 2021, they were seldom seen on Beachland or A1A. Even when the Los Angeles Dodgers had their spring training camp here and California fans showed up for the most hopeful part of the baseball season, they didn't stick around.
Then, last year, suddenly and without warning, they began arriving daily in sufficient numbers and with enough cash to become a driving factor in the island's record-breaking real estate market.
"If we look back, I think we'd find that we had more California buyers last year than in the entire 42-year history of our company prior to 2021," said Dale Sorensen Sr., founder of Vero's top-selling brokerage.
Partners Cindy O' Dare and Richard Boga at Premier Estate Properties said the extraordinary influx of buyers from the West Coast accounted "for a huge percentage of the increase in sales," as they more than doubled their transaction volume in 2021
"Our two biggest oceanfront sales were to California buyers, and we had many other sales to people from Los Angeles and San Francisco," said O'Dare.
Those two big transactions alone – the $22 million sale of 10 Ocean in Indian River Shores in July and the $27 million sale of the estate at 1920 A1A in November – significantly boosted their 2021 total.
"We have certainly seen an increase in buyers from California," agreed Carol Prezioso, managing broker at the Berkshire Hathaway HomeServices office on the island. "They are coming from all parts of California, with most purchasing in the $500,000 to $2 million price range and one of our buyers looking in the $20 million-plus range."
"We had a large number of California buyers, 10 to 15 percent of our total," said Bobbie Holt, managing broker at ONE Sotheby's. "They often want to look in Jupiter and Palm Beach as well as Vero Beach, but most come back Vero when they realize the value and unique lifestyle here. They are amazed at the cost of our ocean and riverfront properties."
Brokers say the Californians, flush with cash, bought homes almost exclusively on the barrier island, often on the river or ocean.
"I sold one $350,000 house in Pointe West to a California buyer, but that was an investment property," said Berkshire Hathaway agent Chip Landers, "All the rest were on the island, in the $1 million to $1.5 million range."
Landers said he saw "a huge" increase in California buyers last year, selling more to them in 2021 than in all the years since he started in real estate in Vero in the late 1980s.
The gold rush of buyers from California was part of the overall pandemic migration, in which millions of people fled crowded urban areas, relocating to attractive small towns and embracing remote work.
But it was also fueled by other powerful financial and social factors, some related to the pandemic, some not, according to island brokers.
"From talking to my buyers it was mainly driven by finances," said Landers. "Taxes are drastically lower here and you get so much more for your money when you buy a house. There, you basically get a shack for $1 million, a 1,200-square-foot house. Here, you can get a nice house on the island."
Statistics and online listings back up Lander's perception.
On Monday a 2-bedroom, 2-bath, 740-square-foot house in La Jolla, a beachy area of San Diego, was listed for $1 million. In Vero, a 2-bedroom, 2-bath, 1,945-square-foot house on Mockingbird Drive in Central Beach was offered for $899,000 – two and a half times the space in a comparable location for less money.
In December 2021, the median sale price for a home in Vero Beach was $329,900, according to Realtor.com. In Los Angeles and San Diego, the median sales price was more than double that, ringing up at $795,000 in both cities.
In San Francisco, the median sold price was $1.5 million, more than four times the Vero figure.
Luxury waterfront prices were even more divergent. Median list prices in December were $3.7 million in Newport Beach and $3.9 million in Malibu, compared to $950,000 in 32963.
In San Diego, median list prices in La Jolla and Coronado, two prime waterfront areas, were $2.4 million and $2.3 million, respectively, while the median ask in San Francisco's Marina District was $2.7 million.
Overall, the cost of living is much lower in Vero Beach, too, with cheaper gas, groceries, transportation costs, preschool bills and bar tabs.
A person making $52,000 a year in Vero would need to make $100,000 in Los Angeles to maintain the same quality of life, according to bestplaces.com's 2022 cost of living calculator.
A Californian who decides to retire early – selling a $5 million house in Laguna Beach, buying a similar house here for $2 million, and investing the windfall – walks around smiling.
Someone who keeps their Silicon Valley or downtown Los Angeles job and moves here with a similar house swap would find it an even better deal.
"If you maintain your California compensation and work from Florida, where home prices and cost of living are much lower, it is a real win," said Rei Mesa, president and CEO of Berkshire Hathaway HomeServices Florida Realty, who oversees some 40 offices in 21 counties in the state.
Based on the bestplaces.com figures, someone making $200,000 in Los Angeles effectively gets a raise to $390,000 by moving to Vero, where money goes almost twice as far.
For icing on the financial benefits cake, California has a steep state income tax, which can take a bigger bite out of workers' paychecks than federal income tax, while Florida has no state income tax. That one difference could potentially boost the $200,000 Los Angeles worker's effective Vero income another $20,000 to $410,000.
But all those financial incentives have been in place for decades without enticing California buyers to Indian River County. So what tipped the balance?
Island brokers said their buyers have told them that increased crime, homelessness and pandemic restrictions in California are what pushed them over the edge, with the new world of remote work enabling many of the moves.
"Taxes were always high in California, but people liked the lifestyle," said Dale Sorensen Jr., managing partner of his family's company. "When what you get for those taxes is crime, homelessness and restrictions on kids going to school, people get fed up."
"They have been shut down a lot more than we have here," said Landers. "They know we have a governor who keeps things open and since they can work from wherever they want, why not move to a place with lower taxes and fewer restrictions that is much more affordable?"
"They are tired of traffic, crime and congestion," said island broker Sally Daley. "I've had a number of clients, one in particular, saying they just can't tolerate the runaway homelessness anymore. That client lives in a nice house is a very nice neighborhood where there is a divided boulevard with a median and the homeless are allowed to camp there.
"Coming and going every day past those encampments, seeing excrement in the streets, having to worry about public safety and public health issues has gotten to be too much for her."
Vero Beach has a problem with homelessness, too, but it isn't as apparent or overwhelming here as in San Francisco or downtown Los Angeles, especially on the 32963 barrier island.
FBI statistics show that the perception of more crime in California is accurate in some places, not so accurate in others.
For instance, in 2019 there were 494 violent crimes per 100,000 people in Los Angeles, compared to 209 in the Vero Beach/Sebastian area, but in Orange County, where Newport Beach and Laguna Beach are located, the number was 230, not much different than here.
But perception is what matters to people making the move, along with all the financial advantages, and for now, "California buyers are driving our market," according to Holt, pushing "the increase in prices and number of cash transactions."