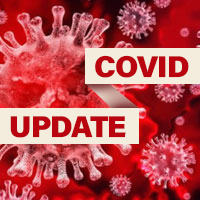 Covid may have peaked, but not hospitalizations
STORY BY LISA ZAHNER (Week of January 27, 2022)

New COVID-19 infections here reported to the Florida Department of Health eased slightly last week with 1,929 cases, down 14 percent from Indian River County's all-time high of 2,255 cases, but unfortunately, the hospitalization of patients with covid seems to still be on the rise.
As of Monday afternoon, Cleveland Clinic Indian River Hospital had 57 COVID-19 positive patients, up from 48 the previous week. Of those 57 patients who had been admitted, 54 were in the COVID unit and three were in the intensive care unit.
According to the Centers for Disease Control and Prevention's Covid Data Tracker for Indian River County, 74 COVID-19 positive patients were hospitalized in the past seven days, up from 61 hospitalizations the previous week.
New restrictions on non-emergency procedures put in place due to the Omicron surge in cases were set to be lifted on Saturday, but Cleveland Clinic Indian River Hospital President Dr. Greg Rosencrance said on Monday, "Cleveland Clinic Florida hospitals have not modified operational policies or procedures since last week.
"We are continuing to monitor the situation on a daily basis to ensure vital medical services are not interrupted and that we are providing the safest possible environment for our patients, visitors and caregivers," Rosencrance said.
Local pharmacies saw shortages of rapid antigen covid at-home tests this past week, as most health insurance carriers began a new policy of covering these DIY tests, or reimbursing policy members for several tests each month. 
But the federal web portal for ordering free tests through the U.S. Postal Service is now up and running.
As rapid home testing that's not reported to the Florida Department of Health becomes more widespread or even routine, public health officials will need to analyze the reported data more closely and creatively to estimate how much the virus is actually spreading within the community as reported numbers may be artificially low.