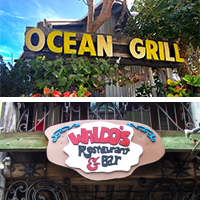 Covid surge closes iconic restaurants
STORY BY LISA ZAHNER (Week of January 13, 2022)

New COVID-19 infections more than doubled again this past week – setting a seven-day pandemic record with 1,407 new cases – and at least two iconic Ocean Drive restaurants had to close temporarily due to staffing shortages.
Both the Ocean Grill in Sexton Plaza and Waldo's Restaurant at the Driftwood Resort closed for nearly a week, citing COVID-19 precautions as the cause.
Waldo's posted on social media on Jan. 4, "Ok friends of Waldo's.  Unfortunately we will be closed until Monday January 10th. We had several of our employees test positive for Covid. So in the over abundance of caution for our employees and guests we will be closed until then.  Please keep us in your thoughts and see you on the 10th."
The Ocean Grill posted a similar notice, saying, "Due to staffing shortages and the recent rise in COVID cases, The Ocean Grill has decided to close until Tuesday, January 11th to protect our employees and customers."
Patrons of both restaurants responded to the Facebook notices with well wishes for the staff, and with appreciation for their honesty and the efforts to keep everyone safe.
During the height of the Delta variant surge last fall, cases topped out at 1,320 in one week, so this week's record is nearly 7 percent higher than our worst week so far in the 22 months.
The hike in cases, coupled with a spike in demand for COVID tests, prompted the Indian River County Health Department to move its drive-through testing site back to the Indian River County Fairgrounds to accommodate growing lines of people.
The fairgrounds testing site at 7955 58th Avenue is open from 9 a.m. to 5 p.m. daily, but there's no entry via 58th Avenue. "Those individuals requiring a COVID-19 test must enter the Fairgrounds from the 77th Street entrance and follow the assigned traffic pattern to obtain their test," county spokesperson Kathleen Forst said.
"The tests are no cost to patients and appointments are strongly recommended. To schedule an appointment, visit cur.tv/verobeach. Individuals who would like to receive a COVID-19 test should bring a form of identification (driver's license, passport, etc.) and wear a facemask," Forst said.
As of the most recent Florida Department of Health report, 75 percent of Indian River County residents age 5 and older have now been vaccinated against the novel coronavirus.
Twenty people were hospitalized with COVID-19 last week, according to the Centers for Disease Control and Prevention's COVID Data Tracker. That's up 54 percent from 13 hospitalizations the previous week, and it represents 3 percent of the previous week's 659 positive cases.
To manage the labor-intensive nature of patients admitted for COVID-19 illness, Cleveland Clinic Indian River Hospital last week announced, "We're continuing to see more people with COVID-19 who need to be hospitalized across our Ohio and Florida hospitals. To make sure we have space available for these patients, we're postponing non-urgent surgeries through Jan. 21 at our Florida hospitals.
"Essential and urgent surgeries will still be scheduled, as well as cancer, pediatric and transplant surgeries. At this time, we are still continuing with surgeries at our ambulatory surgery centers and ambulatory endoscopy centers. We will directly contact patients whose surgeries are being postponed," the hospital said.
State health officials attribute early treatment with monoclonal antibodies as helping reduce hospitalizations in Florida. The closest treatment site for local residents to receive Regeneron or similar monoclonal antibody shots is the St. Lucie County Fairgrounds.