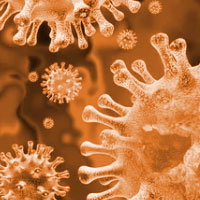 Covid surge sees hospitalizations more than triple
STORY BY LISA ZAHNER (Week of January 20, 2022)

New COVID-19 infections here set another record this past week, and the number of people hospitalized with the virus more than tripled.
As of Friday's Florida Department of Health weekly COVID-19 situation report, 2,255 people tested positive for the virus in Indian River County during the seven-day period, up 60 percent from 1,407 new cases the prior week.
More than 320 people per day are being added to the ranks of people here contending with COVID-19, whether that positive test means no symptoms, a head or chest cold, or more severe illness leading to a doctor visit or trip to the hospital.
During the same period that cases rose 60 percent, new hospitalizations of patients positive for COVID-19 more than tripled, from 20 hospitalizations on the Jan. 7 report to 61 on the Jan. 14 report. Those numbers increased over the weekend, and by Sunday the Centers for Disease Control and Prevention's Covid Data Tracker showed 74 new hospitalizations here in the previous seven days.
As of Monday morning, Cleveland Clinic Indian River Hospital had 41 patients in its regular Covid wards, plus another seven in the Covid Intensive Care Unit, for a total of 48 Covid-positive patients, according to hospital President Dr. Greg Rosencrance.
The Indian River Shores Public Safety Department serves some of the county's most vulnerable-by-age to serious COVID-19 illness, but Deputy Chief Mark Shaw said the ambulance crews have not seen an uptick in calls where patients need to be transported to the hospital due to Covid.
"This variant has been mild," Shaw said, strictly in terms of tasking the Shores' emergency medical response teams. "But I also think our residents have a higher vaccination rate."
As of Sunday, 92.6 percent of Indian River County residents age 65 and older were fully vaccinated, and a full 55 percent of those senior citizens have also had a booster shot.
Nearly three-quarters of all Indian River County adults are fully vaccinated, and 88 percent of local adults have had at least one dose of Covid vaccine.
State health department reports say that 27,000 Indian River County residents – 16 percent of the population – have tested positive for COVID-19 since the start of the pandemic coronavirus testing in 2020.
That means 84 percent of Indian River County residents have not yet reported testing positive for COVID-19.
At-home rapid antigen test results are generally not included in the state data.