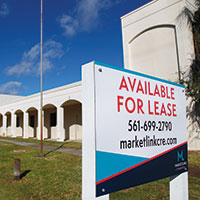 Fate of vacant Press Journal building again seems up in the air
STORY BY RAY MCNULTY (Week of January 27, 2022)

When automobile enthusiast Wayne Gould bought the former Press Journal building on U.S. 1 in December 2020, the longtime island resident said he wanted to open a classic-car museum on the 3.75-acre parcel, similar to his Wayne's Toys Tucson Classic Car Museum.
Now there's an "Available for Lease" sign on the property – and Gould isn't talking.
Contacted by email, Gould wrote: "We have nothing to say regarding this property at this time," then didn't respond to a follow-up inquiry from Vero Beach 32963.
His refusal to provide an explanation for the sign was puzzling, considering he had not previously been shy about discussing with local media his plans for the two-story building, located between 18th Street and 18th Place.
Even more curious was Gould being quoted by a local niche publication as saying, "I have not authorized that sign," adding that he had made "no final determination yet" on the future of the property.
The sign was erected by MarketLink Commercial, a West Palm Beach-based real estate broker that includes Gould's property among the listings on its website, where it advertises two adjoining outparcels measuring 2.07 and .84 acres.
According to the listing, Pink Bird Car Wash – a West Palm Beach-based company looking to expand – has proposed opening a Vero Beach location on a third outparcel, occupying .84 acres of the property's northeast quadrant.
The entire property, which is located within the Vero Beach city limits, is zoned for commercial use.
MarketLink Commercial's listing states that Gould's property will be ready for delivery in the first quarter of 2023, offers "prominent exposure and visibility to U.S. 1" and is "ideal for high-profile retail, retail medical, drive-thru, fast casual and storage."
Elizabeth Wright, one of MarketLink Commerical's co-founders, said the property has been listed for "only a month," adding that the owner is "still trying to figure out what to do with it."
She said listing has attracted "just a few" inquiries."
Although MarketLink's tenant roster includes two Aldi markets in Orlando and one in Deland – and the company has shown interest opening a grocery store in Vero Beach – Wright said it's unlikely local shoppers will see one on Gould's property.
"Pricewise," she said, "it doesn't make sense."
The Press Journal building has been vacant since 2015, when Vero Beach resident Bill Summers paid $1.4 million to acquire the property from Scripps, which moved its downsized staff to a downtown office before selling its newspaper chain.
More than five years later, Gould bought the property from Summers and, at least initially, expressed excitement about opening a car museum and moving some – if not all – of his cars to Vero Beach.
Gould, who has owned a home in Vero Beach since 1998, currently stores his collection of 60 to 75 classic and historic cars at his Wayne's Toys: Tucson Auto Museum in southern Arizona.
He hoped to renovate the 42,000- square-foot building and open his museum here by the end of 2021, but he put his plans on hold last summer, with no construction permits submitted and no visible improvements made to the property.
He did not reply to an email asking if he had abandoned his museum plans and decided to do something else with the property – and, if so, why.