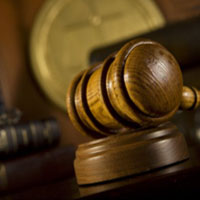 First of elder care fraud trials set for February
STORY BY LISA ZAHNER (Week of January 27, 2022)

Chiquita McGee, a 33-year-old Fort Pierce woman accused of defrauding an elderly John's Island couple in her care by charging luxury purchases to their credit card, will be the first of two co-defendants to be tried in the case on Feb. 21.
McGee's cousin Sophia Monae Shepherd, 34, aka Sophia Brown, of Vero Beach will be tried second. Both defendants will go to trial with different lawyers than the ones who have represented them for nearly four years.
Shepherd was set to go to trial this past Monday but her longtime private attorney, Bob Stone, backed out of the case. He filed a motion to withdraw on Jan. 10, noting he'd represented Shepherd since her arrest in 2018.
"During that period of time there have been several events that have caused delay. There have been ongoing plea negotiations between the undersigned and the State. During said period there has been a pandemic that closed down the Court system for almost a year," Stone wrote.
"Subsequent to the pandemic, the undersigned had several medical problems which incapacitated him for almost a year. The recovery has been slow and is ongoing," Stone said. "The undersigned is not medically able to go through an extended trial for the period required in this case and there is no assurance that said attorney will be able to do so anytime in the near future."
Stone was admitted to the Florida Bar in 1964 and served as an assistant public defender before being elected State Attorney of the 19th District in 1972.  He served in that capacity for 13 years.
Shepherd has been declared indigent, but the court has yet to designate an attorney to represent her. Stone has asked that she not be represented by a public defender because that agency has a conflict representing co-defendant McGee. 
McGee had been represented by Public Defender Diamond Litty's office, but she recently hired defense attorney James Regan out of Palm City to handle her upcoming trial on a first-degree felony charge of exploitation of elderly or disabled adult of $50,000 or more, and a second-degree felony charge of a scheme to defraud a financial institution. Three weeks ago, Vero Beach attorney Doreen Regent was added to the defense team.
The two CNAs are accused of running up the elderly couple's credit card bills with shopping sprees for luxury items, trips to casinos, a stay at the Plaza hotel in New York, the rental of a Rolls Royce and even cosmetic surgery. If convicted, they could face up to 30 years in prison for the most serious charge. They have both been out on bond since the spring of 2018.
Assistant State Attorney Lev Evans said he is determined to try McGee's case before he retires early this year. Evans pushed to have the case fast-tracked before the pandemic because the remaining victim is in her 90s and cases involving elderly victims can be made to move faster by the judge, but then court closures and covid protocols in 2020 and 2021 delayed the trials.
The elderly couple's daughter is expected to testify at trial, as she communicated with the CNAs while they were charged with caring for her parents in their John's Island home. 
Evans said he's not sure how long it will take for Shepherd to face trial with brand-new, yet-to-be-appointed counsel. "Her attorney will request a long continuance," he predicted.