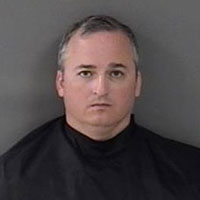 Man to be sentenced for hiding camera in bathroom
STORY BY LISA ZAHNER (Week of January 20, 2022)
Photo of Lennon Ford Starkweather.

The defendant in a May 2020 case in which two teenage girls found a camera hidden in their bathroom in the island estate commonly known as the "Wackenhut House" has pled no contest to two felony charges of video voyeurism and is scheduled to be sentenced next month – not to prison, but to probation.
The defense attorney for Lennon Ford Starkweather, 38, negotiated a plea deal with State Attorney Tom Bakkedahl's office that would keep the home electronics and information technology contractor in the community, with some minor restrictions.
The Indian River Shores Public Safety Department caught Starkweather retrieving the camera allegedly planted in the home in Bermuda Bay while he was doing electronics work for the family, and analysts from the Indian River County Sheriff's office analyzed Starkweather's computers and found supporting evidence.
"The State and the Defendant agree that the sentence will be two years of probation and the defendant will undergo a mental health assessment and follow any treatment course indicated, have no contact with the victims, do not return to the scene of the offense, and the defendant will not work in the information technology field during the term of the probation," court records state.
The maximum sentence that could be imposed by the court, according to the plea agreement paperwork, was 10 years in prison and a $10,000 fine, but that sentence would most likely only be invoked if the defendant had prior offenses.
Should Judge Dan Vaughn reject the negotiated plea deal and choose to impose a stiffer sentence than two years of probation at the Feb. 7 hearing, court records say that Starkweather can withdraw his plea.
Charging documents against Starkweather say the two teenage girls who were being filmed discovered the "stealth camera" disguised as a fully functioning cellphone charger box. When they did a Google search, they  found the device was actually a stealth video camera sold on Amazon.com.
Police subsequently installed their own surveillance cameras, and videotaped Starkweather returning to the house and retrieving the camera.
Indian River Shores Public Safety Chief Rich Rosell and Deputy Chief Mark Shaw on Monday both expressed disappointment at the light negotiated sentence.
Rosell said the evidence in the case was solid and prosecution should have been a "slam dunk."