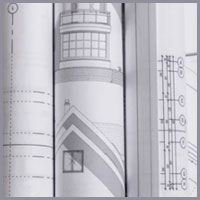 New rental community near hospital moving forward
STORY BY LISA ZAHNER (Week of January 27, 2022)

Though it won't be finished in time to house the current wave of people moving to Vero Beach, a new 189-unit rental community, Grand Pointe, could in a few years become a very convenient housing option for people working in Vero's 37th Street medical corridor.
A Master Site Plan for the apartment and townhome development was vetted on Jan. 6 by the Vero Beach Planning and Zoning Board and the site plan presented was found to be in compliance with code, and approved to move forward.
Grand Pointe will be located just south of Harbor Chase and Regency Park, and across Indian River Boulevard from Solaris Senior Living and the new $22 million, 70,000-square-foot Vero Orthopaedics and Neurology facility. The driveway-to-parking lot commute to Cleveland Clinic Indian River Hospital will be three to four minutes.
A total of 349,727 square feet of three-story buildings with an overall height of 46 feet is planned on the 23.6-acre parcel, including an amenity center, community swimming pool, landscaped courtyards and a leasing office.
The triangular-shaped property, owned by John's Island resident Warren Schwerin's company Schwerin Asset Advisors LLC, is bordered by conservation land to the east. The southeast portion of the property will be maintained as a wetland area, according to the site plan.
An environmental assessment on the land describes it as "historic citrus lands that were abandoned in the 1990s." In the meantime, invasive Brazilian pepper trees proliferated on the property.
Engineer Kevin Roberson of Kimley-Horn and Associates said the owner is seeking a drainage easement from the Indian River Land Trust to provide for a system of dry and wet stormwater retention ponds. One board vote is still pending from the Land Trust before the city can issue a development order.
Vero Planning Director Jason Jeffries said the project does not need to go before the city council based upon the current plan. "The Grand Pointe Multi-Family Project public hearing at the Jan. 6 Planning and Zoning Board was a Major Site Plan. Final approval for a Major Site Plan is from the Planning and Zoning Board," Jefferies said.
Phase One of the Grand Pointe development is expected to be completed by early 2025, with Phase Two coming online a year later. The traffic study completed said the project should not necessitate any improvements to Indian River Boulevard.
No local residents spoke against approval of the Master Site Plan last week. Developer Tom Cavanaugh held a neighborhood workshop about the project at Vero Beach City Hall in June, but only one person showed up, and that was another developer who was curious about the new community.