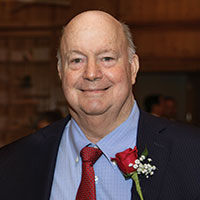 Tom Segura: He worked unbelievably hard to see our hospital remained vibrant, and grew
STORY BY MARY SCHENKEL (Week of January 13, 2022)
Photo of Thomas N. Segura.

Thomas N. Segura, who died Dec. 29 at 74, will be remembered as a champion of the community he loved, especially as it related to our local hospital, the Visiting Nurse Association, and the United Way of Indian River County.
A proud Marine, Segura served in Vietnam and moved to Vero Beach from Ohio in 1993, where he continued his career with Merrill Lynch as a wealth manager and vice president.
"He was loving, and he was so devoted to family and community," said Ann Marie McCrystal, who recruited him to join the board of the VNA in 2019, following his time on the board of the Indian River Medical Center.
Segura served for 10 years on the IRMC board, including as treasurer, vice chairman and chairman, presiding during a time in which the hospital experienced great growth, with the development of the Scully-Welsh Cancer Center and the Welsh Heart Center. 
Prior to the hospital board, Segura had served as a trustee on the Indian River County Hospital District board.  
"He knew healthcare in the community; he gave great wisdom, great leadership and great thought.  His personal involvement at the VNA was incredible; he was so bright," said McCrystal.  "My husband (Dr. Hugh McCrystal) and Tom had lunch once a month at Quail Valley, just to catch up.  And Tom always called my husband 'Chief' because Hugh was chief of staff when Tom was on the board."   
John Moore said he met Segura when they were neighbors in Castaway Cove. 
"We discovered that we had so much in common: raised Catholic, Catholic colleges, both practicing our faith and working in allied fields.  I'm doing estate planning, he was doing financial advising, so we're working with the same people all the time. So that began our friendship," said Moore. 
Even when the Moore family moved away, they would still meet met for dinner, "always two orders of 'shrimp on the barbie' at Outback Steakhouse."  
"He was very proud of our hospital.  He worked unbelievably hard to make sure that institution remained vibrant and grew," said Moore, who had also served as a Hospital District trustee and kept abreast of hospital issues through Segura.
"He was a great mentor, friend, counselor and advisor to me, particularly with parenting," said Moore, whose children were about 10 years younger than Segura's. "It was great, having people that you trust who were running this road 10 years ahead of you.
"A lot of our talks, really, were about faith, and how does one going about living the faith in these roles as father, and advisor to clients, and serving the community. That was actually a very, very important and consistent theme.  What does God expect of us and how do we best do that?  That was a remarkable touchstone for us over the years," said Moore.  "It was a beautiful friendship."
Moore considered Segura as part of the cadre of people who arrived here in the 1980s and early 1990s and who contributed greatly to the development of top-notch institutions, such as the theater, museum, hospital and numerous nonprofit organizations. 
"This town has been transformed because of people who arrived here like Tom did, who looked around and said, 'OK, what can I do to help?' We owe those people a huge debt of gratitude," said Moore. 
At the February 2020 Leukemia & Lymphoma Society's annual Paint the Town Red gala at Quail Valley River Club, Segura was named the year's Honored Warrior for his strength and determination in his fight against multiple myeloma, which began shortly after his retirement from Merrill Lynch.
After his retirement, Segura served on the VNA board, a post he held until his untimely death.