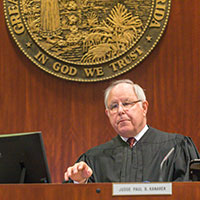 Vero, Shores set for utility mediation
STORY BY LISA ZAHNER (Week of January 20, 2022)
Retired Judge Paul Kanarek.

Legal teams from the Town of Indian River Shores and the City of Vero Beach were set to enter pre-trial mediation this week in a federal antitrust lawsuit filed by the Shores against Vero over the city's claim to a permanent water-sewer service territory which includes the town.
In the lawsuit, Indian River Shores claims a 1989 agreement splitting Indian River County into water-sewer service territories – placing the Shores in Vero's territory – is a violation of federal antitrust laws because, if enforced, it prevents the Shores from seeking competitive rates for an essential service.
Vero claims the 1989 agreement clearly grants the city a permanent service territory, and that it was the intent of the local elected officials at that time to make the territories permanent.
Retired Judge Paul Kanarek, who was hired to mediate the dispute, recently sent the parties a list of 10 questions for them to answer to better prepare for the session. Among the things Kanarek wants to know are why the Shores wants to leave Vero's system, and how much it would cost for Indian River County to add the Shores to its utility system.
"I think he wants to have those answers in hand before we sit down together," City Manager Monte Falls said.
The Vero City Council discussed the utility dispute at the Jan. 4 council meeting, and Mayor Robbie Brackett reported back on a meeting he had with Shores Mayor Brian Foley. The two mayors had discussed measures that would allow the county and the Shores to talk about the county's potential interest in serving the Shores without fear of retribution from Vero.
"I've asked Mr. (John) Turner (the city attorney) to look at is it possible to set aside, with permission from this council, obviously, to set aside some of the restrictions of that agreement so they can talk to the county openly just to speed up the process and hopefully get to the end quicker," Brackett said.
Falls and Brackett pointed out that, to date, Vero has never gotten a formal request from the County Commission for the freedom to negotiate with the Shores about providing water-sewer service to the town. In fact, county officials have said repeatedly that they have no intention of going after any of Vero's utility customers. But the Shores seems determined to exit Vero's system and to convince the county to take them on.
Vice Mayor Rey Neville said: "There's a lot of fog out there yet and if we could just clear the fog, I think we could resolve this darn problem, and it wouldn't be hard." Neville said one big missing piece of information is whether or not Indian River County even has the capability to service the Shores utility customers.