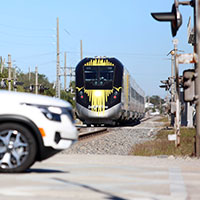 We get no train service, but pay $440K a year for rail crossings
STORY BY GEORGE ANDREASSI (Week of January 27, 2022)

Indian River County's legal settlement with Brightline passenger trains for installation of $31.6 million worth of safety improvements won't spare local governments from paying an average of $440,000 annually to Florida East Coast Railway for maintaining railroad crossings here.
Three local governments in Indian River County paid more than $2.2 million to FECR during the past five years for the maintenance and licensing of 29 public railroad crossing, records show.
Florida Department of Transportation paid another $117,132 to FECR over the past five years for the twin crossings for State Road 60 at 19th Place East and 20th Street in downtown Vero Beach.
The costs of maintaining the 31 public railroad crossings in Indian River County can only increase as Brightline ramps up construction this year, including furnishing additional safety measures in the FECR right-of-way under a June 2021 settlement agreement.
The extra safety features include pedestrian gates and additional warning signals, signs and road markings at railroad crossings. Fences will be built in hazardous areas along the tracks.
Brightline anticipates operating 32 trains per day – 16 in each direction – at speeds of up to 100 miles per hours through Indian River County en route between South Florida and Orlando starting in early 2023.
Construction is more than 70 percent complete on the $2.7 billion extension of Brightline's high-speed railroad tracks from West Palm Beach to Orlando International Airport, Mitzner said.
The project includes upgrading the FECR tracks between West Palm Beach and Cocoa and building new high-speed tracks connecting Cocoa and Orlando International Airport.
Brightline started daily training operations for engineers and conductors last Thursday along the 130-mile stretch of FECR tracks between West Palm Beach and Cocoa.
Two days earlier, Brightline ran its first train across the St. Sebastian River Railroad Bridge, which is being reconstructed, to the Holly Street railroad crossing in Micco.
The trial runs will continue throughout the year, said Brightline spokeswoman Katie Mitzner.  The Brightline trains will travel 40-to-60 mph, same as the FECR freight trains, and carry no passengers during these trials.
Federal rules require the freight and passenger train engineers to blow their horn as they approach at-grade railroad crossings, Mitzner said.
Brightline reported ridership of 61,045 passengers in November between its three stations in South Florida since resuming service on Nov. 8.
The company had suspended service on March 25, 2020 in response to the COVID-19 pandemic, but continued construction on the extension to Orlando.
Ridership accelerated throughout November and into December, according to Brightline's December 2021 quarterly unaudited financial statement report.
More than 50,000 people opened user accounts since services resumed, the report says. Brightline anticipates increasing ridership and ticket prices in December, the report says.
Brightline also started offering a new electric car service that picks up or drops off passengers within a mile of a Brightline station.
New train stations in Boca Raton and Aventura are expected to be completed in the fall, the report says. Brightline also plans to build a new station at Disney Springs.
Brightline negotiated with FDOT for right-of-way access in the Interstate 4 corridor for train track construction between Orlando and Tampa. The deal is expected to be finalized by March.
Brightline Trains Florida LLC, of Miami, is owned by Fortress Investment Group, while Florida East Coast LLC, of Jacksonville, is owned by Grupo Mexico. Both were spun off by Florida East Coast Industries of Miami.
Indian River County's settlement agreement with the two companies concluded political, administrative and legal efforts regarding passenger train safety that began in 2014 and cost nearly $3.8 million.