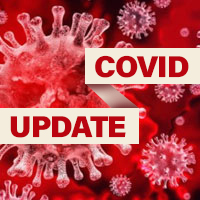 COVID-19 cases up; hospitalizations down
STORY BY LISA ZAHNER (Week of July 28, 2022)

While new weekly COVID-19 infections here were up by 11 percent this past week to 499 cases, local hospitalizations and deaths were both down, according to the Centers for Disease Control and Prevention.
As of Monday, Cleveland Clinic Indian River Hospital had 10 covid-positive patients – down from the 27 people hospitalized one week prior, according to hospital spokesperson Arlene Allen-Mitchell. Two of the patients in the hospital were in the Intensive-Care Unit, up from one last week.
The CDC reported six additional deaths in Indian River County last week due to COVID-19, down from nine deaths in the previous seven days.
All but two Florida counties remained in the high community spread category, with the Treasure Coast and Florida's Panhandle reporting the greatest percentage increase in cases from the previous week, according to the CDC's rolling seven-day average.
Infections remain high in South Florida and the Tampa Bay area, but cases appeared to be flattening out a bit in those hot spots – at least temporarily.
The predominant BA.5 subvariant of the Omicron virus strain is said to be better adapted at evading immunity gained through vaccination or natural immunity from prior infection.
Senior citizens and those with compromised immune systems or underlying conditions putting them at risk for serious COViD-19 illness eagerly await new formulations of the Moderna and Pfizer vaccines targeted at the more contagious Omicron variants as a growing number of fully vaccinated and double-boosted people like President Joe Biden – who avoided COVID-19 infection since 2020 – are being infected with the BA.5 subvariant.
Concerned about the next covid surge, the CDC gave the green light last week to a fourth COVID-19 vaccine, for adults who have not yet received the Moderna, Pfizer or Johnson and Johnson shots.
Novavax, a two-shot regimen administered 21 days apart, is a more conventional vaccine delivery system than the mRNA technology used in the Pfizer and Moderna shots. It's still unclear where or when the vaccine will be available in Indian River County. Neither Cleveland Clinic Indian River Hospital nor the Indian River County Health Department has immediate plans to offer the Novavax vaccine locally.
Only 8.5 percent of Indian River County residents would be eligible to receive Novavax, as 91.5 percent of Indian River County adults have received at least one dose of a different COVID-19 vaccine. Seventy-seven percent of the county's adults are considered to be "fully vaccinated," and half of those people have received one "booster" shot on top of being fully vaccinated.
With less than two weeks remaining until the start of public-school classes, students and teachers will enter their third year contending with COVID-19. Only about 5,300 Indian River County school-age children have been fully vaccinated.
The virus making more headlines than COVID-19 right now – especially in Florida – is Monkeypox. As of Monday, the Florida Department of Health reported 273 cases in 16 counties across the state, which amounts to about 10 percent of the nation's documented cases. Broward County has had 131 cases, followed by Miami-Dade with 73 cases.
As of Monday, the state reports no confirmed cases on the Treasure Coast, the closest cases being 10 cases in Palm Beach County and three cases in Polk County.
Public health officials say the short window of opportunity to contain Monkeypox in the United States has been missed due to a lack of awareness and urgency, so the focus now is on testing, treatment and vaccination.
Smallpox vaccine supplies that have been released from stockpiles are somewhat limited so far, as the disease has been all-but eradicated worldwide in 1980, and the vaccine carries the risk of serious side effects for immune-compromised patients. The last natural outbreak of Smallpox in the United States was in 1949 and the last case in the U.S. was reported in 1977, according to the National Institutes of Health.