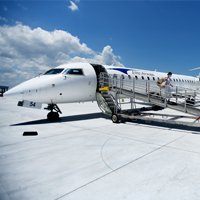 Elite Airways: Few flights from Vero in June; none so far in July
STORY BY RAY MCNULTY (Week of July 14, 2022)

Elite Airways canceled 27 of its 35 scheduled flights into and out of Vero Beach in June – as well as all of its July flights through Monday – and the boutique carrier isn't expected to resume service until next week.
"We'll probably have a few more cancellations before things get back to normal in a week or 10 days," Elite President John Pearsall said Sunday. "We're down to a limited number of aircraft."
Pearsall said two factors contributed to Elite's current aircraft shortage:
• The airline's 50-seat passenger jets needed to undergo what he described as "major maintenance."
• A federal Transportation Security Administration program that temporarily allowed the airline's 70- and 90-seat jets to land and take off at the Vero Beach Regional Airport expired at the end of May.
Pearsall said Elite is in the process of removing 10 seats from its 70-seat jets to comply with the TSA's 60-seat limit for the Vero Beach airport, "but we've run into a few delays and that's impacted out aircraft availability."
Vero Beach Airport Director Todd Scher confirmed the TSA had approved an "alternate means of compliance" that permitted Elite to operate its larger jets here in April and May.
The "alternative means" program required additional security staffing, which the airport, city and TSA provided until the month of May.
Since that program expired, however, Elite has operated only eight revenue-generating flights into or out of Vero Beach – four to or from Newark, New Jersey, and four to or from Portland, Maine.
Scher said Pearsall told him one month would be sufficient to convert the aircraft needed to provide the scheduled service connecting Vero Beach to Newark, Portland and White Plains, New York.
"They converted one aircraft that has been approved by the TSA, so I don't know why there's a problem," Scher said. "They have that one 60-seater, and they operated at least some flights through June. I can't see that as being the reason they're not flying."
Scher said the TSA has three levels of security for airports, depending on the level of a facility's commercial activity, and Vero Beach is in the second tier, meaning security must be provided only in the immediate area surrounding an air carrier's operations.
That's a notch below the "complete" program required at major-market airports, such as those in Orlando and Miami, where security must be provided throughout the airport complex.
"We've been at the same security level since Elite arrived here," Scher said.
Elite had temporarily relocated its Vero Beach flights to Melbourne from early September through late March to accommodate a major runway-resurfacing project here.
Then from March 25 through May 31, more than 3,000 travelers flew into or out of Vero Beach on Elite, including more than 1,700 in April.
Elite's passenger numbers here, however, dwindled to 295 in June.
Scher said Elite usually notifies the airport staff of flight cancellations only 18 to 24 hours in advance, and sometimes less. He said he received notice Friday afternoon that the airline's flights scheduled for Saturday, Sunday and Monday had been canceled.
"It's not unusual for John and I to have a conversation every couple of weeks, but I haven't heard from him since June 16," Scher said. "It's been radio silence."
Scher said Elite informs customers of flight cancellations via text message or email.
"The passengers seem to be getting the word, though, because we're not seeing a lot of people show up, not knowing their flights have been canceled," Scher said. "There have been a few, though."
Scher said the rash of cancellations doesn't impact Elite's contract with the city, and Vero-based customers continue to book flights via its website.
Orchid resident Phil Coviello, however, isn't among them.
"I've had more bad luck with Elite cancelling flights and lengthy delays," Coviello said. "I had already stopped using them for business flights, because you can't rely on them, and I won't use them again."
Coviello said Elite canceled four flights that impacted his family's travel between Vero Beach and Newark since the beginning of June – one trip involving his grandson's graduation in New Jersey, the other a July 4 visit from his granddaughter.
"We've received a few calls and questions, mostly from people asking if we know why their flights were canceled," Scher said. "These cancellations are a huge inconvenience for people traveling, but they also affect us.
"When we prepare for a flight, we have to make sure we have the necessary staff, TSA screeners and even the police," he added. "So when they cancel the night before, they're throwing a monkey wrench into the works."