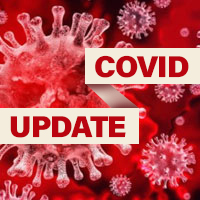 Hospitalizations of patients with Covid up sharply
STORY BY LISA ZAHNER (Week of July 21, 2022)

The number of people hospitalized here with COVID-19 has increased 59 percent since July 1, and 16 more Indian River County residents have died with or from the virus in the past three weeks, according to data compiled from Florida Department of Health and Centers for Disease Control reports.
The CDC reports 25 new hospitalizations over the past week, up slightly from recent weeks, but the big jump occurred in the number of people still in the hospital at press time.
Going into the Independence Day holiday weekend, 17 people had been admitted to Cleveland Clinic Indian River Hospital with COVID-19, but on Monday, hospital spokesperson Arlene Allen Mitchell said: "We have 27 patients in house with Covid, one is in critical care."
Florida is still a hot spot for COVID-19 transmission, with new infections rising 15.4 percent statewide last week, but the number of Indian River County cases reported to the Florida Department of Health held steady at 456, only a single-digit fluctuation from the previous report.
The number of cases reported here has remained flat since early June, but it's tough to tell how accurately that number really reflects the spread of COVID-19 with the results of widely used at-home test kits not being reported to the health department.
The CDC estimates that roughly 70 percent of people turning up positive right now are infected with the highly transmissible BA.5 Omicron sub-variant. This mutation has shown to be more wily in terms of evading immunity acquired via both vaccination and prior infection.
With senior citizens here relying upon vaccinations and boosters, that means more older people with breakthrough infections, and in the hospital, a situation not unlike the early days of the pandemic prior to the availability of the Pfizer and Moderna vaccines.
According to CDC data going back to March 2020, patients in the 65 and older age group are nearly twice as likely to suffer a life-threatening case of COVID-19 as their slightly younger counterparts in the 50 to 64 age group. The five underlying conditions that pose the most risk, when combined with covid infection, are obesity, hypertension, chronic lung disease, heart disease and metabolic conditions such as diabetes.
While the 95 percent of local fully vaccinated seniors, and the nearly 70 percent of seniors who have opted for boosters, eagerly await the upgraded Omicron-targeted vaccine formula due out this fall, adults who have not yet been vaccinated at all are expected to soon have a new option.
Last week the FDA approved a fourth vaccine formula, the Novavax two-shot regimen, produced by a Maryland-based company that was awarded $1.6 billion in 2020 through Operation Warp Speed to deliver 100 million vaccine doses purchased by the federal government.
Clinical trials showed the vaccine was 90 percent effective in preventing serious COVID-19 illness requiring hospitalization.
According to Mitchell, Cleveland Clinic has no immediate plans to distribute Novavax should it be recommended for use by the CDC. "We are not offering the Novavax vaccine at this time. Most likely, it will be available at community pharmacies soon," she said.