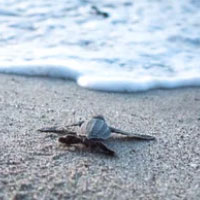 Leatherback sea turtles are enjoying a banner nesting season on our beaches
STORY BY SAMANTHA ROHLFING BAITA (Week of July 28, 2022)

Leatherback turtles broke an 11-year record this season for local nesting, laying 96 nests, beating the 2010 tally of 87 nests by a good margin.
Indian River County Sea Turtle Environmental Specialist Quintin Bergman called the statistics "eggs-cellent for leatherback sea turtles."
In the 22 years since the county's Sea Turtle Conservation program has been keeping leatherback records, the county's shores have been the repository of choice for an average of 50 leatherback nests per season, ranking 2022 significantly above average.
The largest turtle on the planet, and one of the world's most impressive reptiles, leatherbacks can reach 6 feet long and 1,000 pounds, mostly by chowing down on jellyfish in the cold waters around Nova Scotia.
Each summer, the endangered and protected turtles head south to nest, making the 3,000-mile journey  to tropical shores. Popular nesting spots along Indian River County's 22.4 miles of sandy coastline include the Archie Carr National Wildlife Refuge on the north barrier Island. 
During the March 1 to Oct. 31 nesting season, including the 70- to 90-day incubation period, while the turtles nest and hatch at night, the Sea Turtle Conservation Program monitors the nests each morning and coordinates an effort to record every single "crawl" – the trail of a hatchling from its nest to the water – from the previous night.
Surprisingly, given the adults' mammoth dimensions, the hatchlings are pretty much the same size as other sea turtle babies, about 2.41 inches and 1.6 ounces freshly hatched, according to the Sea Turtle Conservancy. 
A female sea turtle "lays between two and six nests in one season, and Leatherbacks lay around 60 to 80 eggs in each clutch of which about 50 to 60 percent of leatherback eggs hatch, and it's believed that less than 1 percent of the hatchlings will even make it to adulthood," says Bergman. Then it takes 25 to 35 years for sea turtles to be big enough to reproduce.
So, once they've made it to the ocean, then what? Bergman says that question continues to be investigated by biologists and conservationists, but the "best answer currently is that they most likely float on the ocean currents until they grow big enough to head into the open ocean and up into the deep ocean waters near the Arctic, where there is more of their favorite food – jellyfish – than in shallow coastal waters. 
Globally, the greatest threat to all sea turtles in their ocean habitat is unintended take by fisheries or "entanglement in abandoned fishing gear," says Bergman. Marine pollution such as balloons and plastic bags can also be fatal to the creatures.
Right now on county beaches, leatherbacks have been hatching, and those babies are in danger from artificial lights, Bergman says. They are programmed to follow moonlight to the ocean. If they are disoriented by manmade lights – porch, walkway, interior lights through open blinds, flashlights, even bonfires – they follow them, go the wrong way, and likely die.
Indian River County, Vero Beach, Indian River Shores, and Orchid all have nighttime lighting ordinances restricting the use of artificial lights along the beach during the nesting season, and each government has its own penalties and code enforcement officers, Bergman notes.
Bergman urged oceanside dwellers and beachgoers to "help our beloved sea turtles, shield and point lights downward on buildings, use amber or red lights, and don't interact with them."