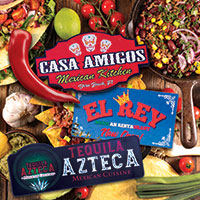 Mexican restaurants here are hot, hot, hot!
STORY BY STEPHANIE LABAFF (Week of July 28, 2022)

As the local dining scene heats up in the wake of the pandemic, Mexican food is becoming the hottest thing in town – and we're not talking about the chiles rellenos or the mole poblano enchiladas.
After years when Vero seemed to have nothing but Italian restaurants, we are now seeing a surprising surge in Mexican dining spots here. At this rate, there could soon be a dozen Mexican eateries on the mainland to choose among.
Whether any of these will at last bring Mexican fine dining to Vero – or will simply be more Tex-Mex places – remains to be seen. But three new south of the border restaurants are either just opening or are in various stages of readiness west of the Barber bridge.
The first of the newcomers, the El Rey Mexican Restaurant, held its grand opening on July 16. It's located in the former 20th Street location of Vero Prime and, more recently, Savor.
Proprietor Pedro Cruz, who grew up in Pachuca, Mexico, says he is bringing a new "Mexican vibe" to Vero Beach with his take on cuisine from his native country. With 25 years of experience in the restaurant industry, he promises dishes featuring "fresh ingredients and perfectly combined flavors."
In the days preceding the official grand opening, folks flocked in hoping to be the first to taste unique, crafted margaritas featuring fresh, natural fruit and mixed drinks in a smoked glass.
El Rey's menu is intriguing. Beyond the standard Mexican fare, selections include Menudo (beef tripe soup); Ceviche de Pulpo (lime-marinated octopus with pico de gallo and avocado); and Pato a las Brasas (roasted duck).
Meanwhile, the wait continues for Casa Amigos Authentic Mexican Restaurant, which was slated to open in the former TGIF Friday location at the Indian River Mall last December. Permitting seems to have been holding things up, but recent social media posts have indicated the restaurant will be opening sometime this summer.
Jaime Aguilar, a partner in the family-owned restaurant which also has a well-patronized Port St. Lucie location, in an earlier interview promised something new for patrons. "Our concept is different to what is already in Vero Beach. The way we serve. The taste. The presentation."
The third newcomer, Tequila Azteca, will be opening where the Amalfi Grille was located until its closing last April. Restaurant partner, Beto De La Cruz, says they hope to open in the next few weeks.
De La Cruz says the restaurant is a partnership between the owners of Casa Azteca in Fort Pierce and Casa Tequila in Coral Springs, and they plan to bring specialty menu items from both restaurants along with authentic Mexican cuisine.
"I've been on the Treasure Coast for about nine years and I've always thought Vero was a great little town. So, when the location became available, we decided to open the restaurant. Mexican food is really popular and we will offer a good product at a good price," says De La Cruz.
Meanwhile, a variety of existing Mexican restaurants in Vero Beach seem to be going strong.
For years, Ay Jalisco was the only game in town. But now, Taco Dive, Blue Agave, El Sid Taqueria on the island, and Tienda Mexicana Tres Hermanos offer additional options.
Perhaps the best kept Mexican dining secret in Vero is the Alley Taco Stand, located in the alley next to the Irish-American Club in Vero's old downtown.
This pop-up stand is only open Friday evenings, but if you are out on a Friday – and get a mid-evening, or even a late-night, craving for tacos – a walk down the alley will bring you to traditional freshly cooked Mexican street tacos that some say are the best around.