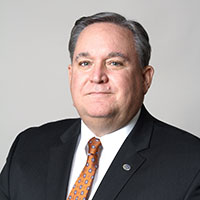 Mueller Campus president Casey Lunceford retiring – sort of
STORY BY STEVEN M. THOMAS (Week of July 28, 2022)
Photo: Indian River State College campus president Casey Lunceford.

Indian River State College campus president and trombonist Casey Lunceford is retiring at the end of August – sort of.
Based on his planned post-retirement activities – serving on boards, consulting, teaching college music classes and helping local high school bands – he may actually be busier than ever starting Sept. 1.
And he'll definitely still be playing the trombone, among other instruments.
But Lunceford will leave his job at the Mueller Campus of Indian River State College after 8 years as president there, 25 years total at the 5-campus community college, and 39 years as an educator in Florida and Louisiana.
He will be replaced by Terri A. Graham, Ed.D, a former elementary school teacher who worked her way up through the pedagogical ranks to be a top administrator at Valencia College in Orlando, where she served most recently as interim president of two campuses, overseeing the education of 35,000 students annually.
Asked what makes him happy when he thinks of the Mueller Campus where his office is being redecorated for the incoming president, Lunceford replies without hesitation, "Student success.
"I was in charge of student commencement for a number of years and I still ask to read at commencement," he added. "A lot of times in education, we start initiatives that we don't see come to fruition, but at commencement you see the completion, the fulfillment. You see the students and their parents smiling and happy, sometimes crying, and that is a great sense of satisfaction."
When asked what is most remarkable about the sprawling 141-acre Vero Beach campus he's led since 2014, his response comes just as fast: "Our connection to the community."
That sounds like something most any retiring college president might say, but in Lunceford's case it expresses a passionate philosophy that has shaped his legacy and created a synergistic network of academic, business and nonprofit links.
This network extends from the Gifford Youth Achievement Center to the Quail Valley River Club, from John's Island to Cleveland Clinic, and from Piper Aircraft to universities around the state where IRSC grads continue upward trajectories launched from the Vero campus.
Lunceford, IRSC president Dr. Timothy Moore, and other leaders of the five-campus system don't see their distinctly non-Ivy League but highly dynamic college, which enrolled 23,000 students last year, as a liberal arts ivory tower.
Instead, they see it as "an economic flywheel," in the words of Moore – an engine of social transformation that lifts up students with non-stellar academic backgrounds, many from difficult economic circumstances, and puts them on a path to a better, more productive life at the same time as it bolsters the area economy.
To achieve that end in Vero Beach, Lunceford has been focused on figuring out how to bring the community onto the Mueller Campus while also extending himself into the community, serving on a wide range of boards, with an eye to integrating outside organizations and the college while also serving the needs of the various groups.
In 2019, Lunceford brought the historic Laura Riding Jackson house to the Mueller Campus, saving the home of the famed poet and naturalist and bringing a whole new population of poetry lovers, history buffs and school kids to a college many of them didn't previously know existed.
The college's Brackett Library, which is also a county library, jointly funded and staffed by IRSC and the county, brings another stream of visitors to the campus, as does the Richardson Center, a conference facility near the library where 119 business gatherings were held during the 2021-22 academic year.
"Casey is just an incredible human being," says Cynthia Ryan, executive director the Veterans Council of Indian River County. "He has dedicated his career to serving his students and his community and has been an incredible asset for us. He is just so connected everywhere. His ability to bring people and programs together is priceless."
In 2021 the college used a half-million-dollar federal grant to establish the IRSC Center of Excellence for Veteran Student Success, which provides academic, financial, physical and social support services that help 500 veterans a year and creates an inflow of students for the college.
Lunceford has opened the door for the Veterans Council to move its headquarters onto the Mueller Campus, and proposed holding PTSD recovery classes at the Richardson Center.
Extending himself into the community at Gifford Youth Achievement Center, Lunceford "was a critical part of the facilities committee when we were working on our expansion," says Angelia Perry, GYAC executive director.
"With his educational expertise and critical insights into young people, Casey was a great resource in terms of classroom design and the technology that we should consider. We included everything he recommended and two years after we completed the expansion, all of those elements are working well. We give Casey a lot of credit for his vision for the middle and high school students."
Flowing back toward the college, kids from GYAC participate in a federally funded program on the Mueller Campus that teaches high school students about college applications, test-taking and job interviews, and takes them on tours of colleges they might attend.
In 2016, Lunceford created a hospitality vocational program on the Vero campus to train workers for the island country clubs and other area businesses, a plan he says he hatched in collaboration with Quail Valley River Club general manager Kevin Given.
In return, island communities and individuals fund hundreds of scholarships for local students.
"We have tremendous support on the island," says Julia Keenan, director of development for the IRSC Foundation. "John's Island, Orchid, Quail Valley Charities – each of them has all kinds of scholarships to support IRSC students. Individuals in those communities also fund scholarships. They see the value of IRSC for their employees and themselves."
"Culinary is our sexy program," says Lunceford, referring to the Culinary Institute on the Mueller Campus. "The chef at Quail Valley hires them early and often."
"The IRSC students we see are highly motivated and eager to learn," says Quail Valley Executive Chef Joe Faria, who has hired 30 or more students from the program for his elite food service operation, including lead cooks. "I have five of their students with me at the moment."
But it isn't just restaurant and club workers who inspire island residents to support IRSC students and vocational programs.
"When people decide they love Vero and want to stay here for the rest of their lives, they want to make sure there are people to fix their cars, and repair their homes, and take care of them when they are sick," says Suzanne Seldes, the college's director of strategic marketing.
"We feel very strongly about the need for top-quality vocational programs and degrees, from HVAC to auto to airplanes," says John's Island Real Estate broker Bob Gibb. "It is important to my clients to have good technicians and we want the students to have degrees they are proud of. Often liberal arts degrees turn out to be more or less worthless, but these students are learning an entrepreneurial approach to business that will serve the community and make them successful."
"A good plumber can make more than I do per hour," notes Lunceford, whose parents came from share-cropping families and leveraged education to rise in world.
Gibb, his wife Wheatie, and their daughter, Rennie, recently made a substantial donation to help build the Eastman Advanced Workforce Training Complex on IRSC's Fort Pierce campus.
The college will consolidate much of its technical training at the 60,000-square-foot, $31 million industrial education facility where students from Vero Beach will learn marine, aviation and automotive technology, advanced welding and other in-demand skills.
Office skills are taught as well. When top AMAC real estate agent Charlotte Terry was looking for an office manager a couple of years ago, she got no response from numerous help wanted ads.
But then she talked to Lunceford.
"Charlotte called and asked if we had a young person who might intern as a manager," Lunceford recalls. "I called the faculty and asked if we had a business student interested in real estate. We did and Charlotte hired the young lady who then had a full-time job for 18 months."
"I had a good experience working with the college," Terry said. "Getting a referral from the business school when hiring is an untapped resource."
Lunceford, 62, comes by his Indian River County networking expertise naturally. His wife Brenda was born in Vero and he arrived in town with his family in 1966 when his father came here to be band director at Vero Beach High School.
He went to the old Vero Beach Elementary School, where the Freshman Learning Center is now, and was among the second group of white students to attend Gifford Middle School after desegregation.
Like a lot of Vero kids, he left for a while, earning a degree in music education at the University of Florida and then going on to Louisiana State University for a master's degree in conducting.
But he was back in Florida six years later, teaching music at Cocoa Beach High School for a year and then moving to newly opened Port St. Lucie High School where he was the first band director and built the band program from the ground up, earning a regional Teacher of the Year award along the way.
He began his career at IRSC in 1997, where he was an associate professor and director of instrumental music for seven years before shifting to administration. In 10 years as Dean of Arts and Sciences, he grew his division from 4,800 students to 13,200.
He took over as head of the Vero campus in 2014.
Lunceford played trombone in the IRSC jazz band when he was only 13, and says he plays all the other instruments in the band as well – skills he will put to use in "retirement" when he plans to return to teaching music, conducting online courses for "a couple of universities," and volunteering his expertise to sharpen up "some high school bands in the region."
He also plans to serve on several boards, consult on higher education issues and continue his role as a "cheerleader" for IRSC.
"I think I still have a lot to offer higher ed," he says.
Indian River State College began offering 4-year degrees in 2008 but remains true to its community college roots, operating as a job skills training enterprise and entry point for higher education.
Some 80 percent of the diplomas it awards are 2-year associate degrees. Many of those 2-year graduates enter the workforce, while others transfer to traditional 4-year colleges and universities.
Besides its five campuses, the college operates five satellite learning centers, including in Sebastian and Fellsmere. It has a large nursing program, partners with Piper Aircraft in the airplane manufacturer's apprenticeship program, and does training for Cleveland Clinic.
The cost of an IRSC education is astonishingly low – $6,200 in total for a typical associate degree and around $13,000 for a bachelor's degree, compared to an average of $85,000 at a private college.
College President Tim Moore says 74 percent of graduates stay in the four-county area the college serves – Indian River, St. Lucie, Martin and Okeechobee counties – and 91 percent of his students graduate debt-free.
"We want to provide the best-quality education at the lowest cost and get our students out the door with the lowest debt and the most wind at their back," he says.
That is the student success that makes Lunceford smile.
New Mueller Campus president Terri Graham will start Aug.1 and Lunceford will work alongside her for several weeks to ensure a smooth transition, retiring at the end of the month.