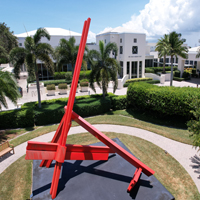 Museum of Art preparing for major expansion
STORY BY MARY SCHENKEL (Week of July 14, 2022)

The Vero Beach Museum of Art, one of the crown jewels of the 32963 island, is preparing to expand again.
"In the past decade, our audience has grown significantly, and we no longer have adequate spaces for our signature programs and events," said executive director Brady Roberts. "We're increasingly acquiring more significant works of art and we want to be able to share those with the public."
The design firm Allied Works – which has worked with numerous other museums – has been appointed to develop plans for an expansion and renovation project that is expected to be completed by the museum's 40th anniversary in 2026. 
"They designed the Clyfford Still Museum in Denver, which is considered one of the gems in the museum field, and they really understood all of our issues," said Roberts. "They showed how they could creatively give us design options to take advantage of all of the great things that we have, and deal with the challenges that we have."
Roberts noted that each of the final four architectural firms that viewed the property commented on the rarity of having an art museum on a barrier island, in a beautiful park, protected from development.
"You just don't see that anywhere else," Roberts said. "So it was fun to work with them and see this through fresh eyes, and to really understand the opportunity that's in front of us. What we're doing is to expand and improve and protect the museum for future generations.
"The challenging part for what we're doing now is, we also want to open up more to the beautiful park setting. We've basically got 365 degrees of great views of Riverside Park, so why not take advantage of that?"
The only outdoor change under consideration is a possible connection on the east side of the building to link the North and South Beckwith Sculpture Gardens in some fashion.
The museum has a long-term lease from the city for its 7.2 acres in Riverside Park, and does not anticipate a need for additional acreage. Roberts said he has been in regular contact with city officials and that they are supportive of the planned expansion.
This is the fourth growth chapter since the Vero Beach Museum first opened its doors in 1986.
"On our initial pass, we did a space allocation study working with a museum designer, just to sort of look at how the building functions and what we might need," said Roberts, noting that their current footprint is 75,000 square feet.
"We anticipate growing by an additional 20,000 square feet, but then renovating quite a bit of the current building. So that's what the architects are now drilling down on, to help us understand exactly what the path forward looks like."
Areas to be expanded or improved upon include the gift shop and restaurant, the Children's Art Zone, and the studio spaces in the Education wing.
Practical issues include strengthening the building against storms. Much of the museum was built before the 2004 hurricanes that struck Vero Beach and, therefore, does not meet hurricane standards. The exception is the 2012 buildout, which included a redesigned shipping and receiving area and construction of a "well-designed, well-made bunker," that features exhibition storage on the second floor, safe from flooding.
"That's a good, solid piece of work that will continue to serve the museum well for decades into the into the future, and we need to do more thinking like that," said Roberts.
Roberts expects cost estimates for the expansion will come out of a process that will include conceptional designs, schematics and construction documents.
"We're working this summer to formulate our plans and will probably ease into a quiet phase in in the fall," said Roberts. He anticipates that architects will need to employ engineers to view the existing facility before determining which areas need to be updated, replaced or expanded.
Emily Sherwood, chair of the museum's board of trustees, chaired the architect selection task force, and currently also chairs the campaign committee. A building committee is co-chaired by trustees Charles Baillie and Richard Segal.