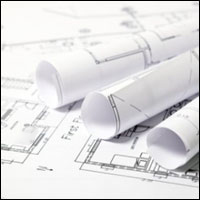 New South Beach restaurant to be built on site of old Charley Brown's
STORY BY STEVEN M. THOMAS (Week of July 7, 2022)

There probably will never again be a salad bar on the site of the popular old Charley Brown's steakhouse on South Beach. But by the 20th anniversary of the 2004 hurricanes, island residents may finally find a restaurant there once again – and possibly, it might even be the temporary home of The Tides.
A new mixed-use project planned for 1410 Highway A1A – with restaurant, retail and office space – is scheduled to break ground in early 2023.  And according to developer Anthony DeChellis, it could end up housing the island's most popular fine-dining restaurant.
DeChellis, who also owns the buildings where The Tides currently is located, is working on plans to redevelop it and the building next to it in 2024, and said:  "Nothing has been decided yet, but it is possible The Tides could be relocated to 1410 while its current location is redeveloped.
"There have also been very preliminary discussions about a new restaurant run by The Tides team occupying the first-floor space long-term," he added.
"There are a lot of great things happening in Vero Beach and I want to be in that mix, helping shape [an upgraded built environment] ... that will be here for the next generation," said DeChellis, who grew up in Vero, attending St. Edward's School and fishing in the Moorings canals before going on to Rollins College, the University of Chicago and a dynamic career in banking and wealth management.
A site plan submitted to the City of Vero Beach shows a 13,300-square-foot structure with three sections built around a roofed central courtyard on a 1.1-acre parcel at 1410 Highway A1A. According to the site plan, there will be two two-story sections and one three-story section.
Some 2,500 square feet of first-floor space is designated on the plan for a restaurant and 2,500 for retail, with the second and third floors shown as office space.
But DeChellis said the entire first floor could be occupied by a single restaurant.
DeChellis' engineer Joe Schulke submitted the site plan to the city in late March and the city sent it back with a typical slate of notes and questions in mid-May.
Schulke said the revised plan will be back to the city "within the next three or four weeks. It is a really neat project. We should be ready to go in front of the Planning and Zoning Board in September."
"We hope to have all our approvals by late fall and break ground in early 2023," said DeChellis, CEO of Silicon Valley Bank Private, a private banking and wealth management operation headquartered in California.
Previously, DeChellis was CEO and president of Boston Private Bank & Trust, which was acquired by Silicon Valley Bank in 2021 for $900 million in cash and stock, according to WealthManagement.com.
That same year, DeChellis made a number of real estate investments on the island.
In May 2021, he bought 1401 Highway A1A from ONE Sotheby's International Realty broker-associate Michael Thorpe, paying $2.15 million for the 16,000-square-foot office building. Built by Proctor Construction in 2003 and located across the street from the mixed-use development site, the building houses the main Vero office of ONE Sotheby's, which acquired Thorpe's real estate business in 2019 but not the building he operated from.
In August 2021, DeChellis closed on 3103 Cardinal Dr., paying $1.8 million for a little more than half an acre of land and two commercial structures, including the 4,000-square foot building where The Tides is located.
The same day, he closed on the 14,000-square-foot, two-story office building next door to The Tides on the north side, paying $3 million for the Colonial-style frame structure and another third of an acre.
The buildings were purchased from Vero Beach attorney Michael O'Haire and members of his family. Between them the properties comprise about a .96-acre parcel that occupies the frontage between Camelia Lane and Bougainvillea Lane.
DeChellis told Vero Beach 32963 that redevelopment would involve tearing down the existing buildings, one of which was built in the 1950s, and "replacing them with better buildings" in the Anglo-Caribbean style popular on the island. He said plans are being drawn up now by Moulton Lane Architects, the same firm that designed his mixed-use project in South Beach.
The A1A project will sit on a 1.1-acre parcel that DeChellis bought for $675,000 in 2008 when he was CEO of Credit Suisse Private Banking. Charley Brown's restaurant, which had occupied the site, was torn down after being damaged by the 2004 hurricanes.
In 2014, at the end of his stint at Credit Suisse, DeChellis and his team drew up plans for a mixed-use development on the site similar to the one now in the works. The site plan was approved by the city, but DeChellis hit the pause button at some point, deciding the market was not ripe for the project.
"This will be a Class-A-plus building. With all that has happened in Vero in recent years, I am confident the market will now sustain the building," he said, adding that it, too, will be in the Anglo-Caribbean style.
DeChellis is part of a family that has been active in the Vero food and restaurant business for decades.
His father Carlo DeChellis, who passed away a year ago at age 88, owned the lot and building on the west side of A1A where Johnny D's is now located, and the senior DeChellis operated Carlucci's Gourmet Market on that site until that building, too, was severely damaged in the 2004 hurricanes.
Anthony DeChellis said at one point, he also had been in talks with 7-Eleven  looking at the possibility of incorporating their property on South A1A into a larger project. After acquiring Speedway's 3,800 stores for $21 billion in 2021, 7-Eleven made a counter-proposal, floating the idea of building a big Speedway station that would occupy the existing 7-Eleven site and DeChellis' property.
"Of course, I said no," DeChellis said.
"That would not have been right for the island. Vero Beach is one of the more special towns in Florida and I have a personal stake in seeing good things happen here."
sort.