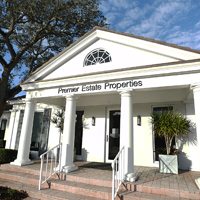 Premier remains realty power here as market changes
STORY BY STEVEN M. THOMAS (Week of July 14, 2022)

Over the past year, while the amazing escalation of home prices on the 32963 island  captured most of the attention, a less visible reordering  of the Vero Beach real estate market and a game of musical chairs among top Realtors has been taking place.
National powerhouses like Douglas Elliman and Compass perceived the need to have a presence in Vero Beach, luring teams of agents from established companies, while top-selling Realtors moved back and forth between existing Vero brokerages determined to hold onto their leadership positions in the island marketplace.
At Premier Estate Properties, for more than a decade one of the 32963 island's leading brokerages, broker/owner Joe Liguori is unfazed by the changes taking place.
"We see this as opportunity for exponential growth in the Vero office," Liguori told Vero Beach 32963. "It opens up the market for existing agents and those that join us. Our unparalleled marketing and advertising will continue and increase, and we plan to grow our market share."
Dale Sorensen Real Estate and John's Island Real Estate are among incumbent brokerages determined and well positioned to hold onto their positions atop the island realty market as well.
But Premier Estate Properties, founded in 1993 in Boca Raton and now operating out of six Florida offices stretching from Fort Lauderdale to Vero, may be the most aggressive.
Premier had an extraordinary run during the pandemic, doubling its sales volume between 2020 and 2021 and tripling it in the past three years to $3.1 billion. The company's 2021 sales included 50 deals for $10 million or more, with 20 of those homes that went for $20 million or more and a top sale of $85 million.
Premier's Gran Prix-style performance landed it on all of this year's top real estate ranking lists, including the Real Estate Almanac 2021 list of the top 1,000 brokerages in the country, which ranked it No. 126 in the U.S., up from No. 225 the year before.
What makes this ranking mind-boggling is that Premier achieved it with just 42 agents, far fewer than others so high up on the list.
For example, No. 125, a RE/MAX brokerage in Danville, California, beat Premier by $14 million in sales volume last year, but needed 322 agents – and even that number is low for the upper echelons.
On average, the brokerages ranked No. 121 to No. 130 on the Real Estate Almanac's objective, third-party list have 885 agents each – more than 20 times as many as Premier.
As a result, Premier was No. 1 in the country for highest sales volume per agent for the second year in a row and No. 2 for highest average sales price.
Premier agents and teams pepper the highly regarded and much-referenced Real Trends list that ranks top agents and teams.
The three-agent Jim McCann Group in Premier's Palm Beach office was ranked as the No. 4 small team in the U.S., with $708 million in sales, and a majority of the agents in the Vero office sold enough in 2021 to be ranked among Real Trends America's Best Real Estate Professionals.
Companywide, nearly 60 percent of Premier's 42 agents were recognized as being among the top 1,000 agents in the country last year, individually or as members of teams.
That included Joe Liguori himself. Along with his two co-owners, brother Gerard Liguori and longtime business partner Carmen D'Angelo, he is part of the D'Angelo/Liguori team, which was the 26th highest-producing small team in the U.S. in 2021, with $397 million in sales. 
"Besides running the company, we are active brokers," he said, "but my greatest satisfaction is the success of our agents. Many of them made more than $1 million, personally, last year, so that they are accumulating wealth themselves. The biggest acknowledgment I can be given is that our agents are best in the country."
Liguori and his twin brother Gerard came to Florida in a classic way, young men leaving behind snowy northern winters for warm weather and what they saw as "great opportunities" in the state's booming real estate industry.
The brothers grew up in Pennsylvania and studied business at Washington and Jefferson College in Washington, Penn. After college they went to work at their father's real estate business but were lured away in the 1980s when they heard from a friend and fellow agent who had moved to Boca Raton.
The friend was making more than $100,000 a year – a lot for the early 1980s – working for the developer of The Charleston Place community, enjoying the South Florida sunshine while the Liguoris were shoveling snow.
They knew real estate was a growth industry in Florida, with millions of new residents arriving each decade, and they heard the siren song that continues to attract 900 new residents to the state each day.
They met Carmen D'Angelo at real estate school where they were studying for their Florida licenses and struck up a connection that has lasted for 35 years.
"Carmen is more of brother than a business partner," Liguori says.
The three men teamed up during the glitzy era when hit TV show "Miami Vice" was making a splash around the country, and went to work for a brokerage owned by a partnership.
When the agency dissolved due to disputes between the partners, they decided to open their own brokerage, Premier Estate Properties.
"We specialized in homes that were $1 million and up from the get-go," said Liguori.
The strategy paid off and the business grew steadily through good times and bad, as the partners opened offices in Palm Beach, Delray Beach, Fort Lauderdale and Vero.
A third brother, Pascal Liguori, came onboard, selling in Delray, and five members of the next generation, children of the brothers, have since joined the company, making it very much a family business.
"That is how we think of it with all our agents," said Joe Liguori. "It's the Premier family. We want the next generation to succeed and feel we have laid the groundwork for that."
"The reason we dominate the luxury marketplace year after year is that our agents function as trusted advisors to our high net worth clientele," said Gerard Liguori. "We have the in-depth knowledge of these communities and of the market to enable us to skillfully tailor the buying or selling experience to each client's needs. We could not achieve such unprecedented success without the loyalty and support of our valued clients."
The incredible surge in business during the past three years, in which sales jumped from $1 billion to $3.1 billion, was fueled by the pandemic migration, according to Joe Liguori.
"A whole new level of wealth has come in," he said. "It is almost like the millionaires are getting pushed out by the billionaires. Many of these buyers are bringing their companies with them and they exponentially increased values and the number of sales."
The company is extensively networked with organizations like Luxury Real Estate Companies of the World and Mayfair International Realty that help expose their listings to the ultra-wealthy around the country and the world, reaching 150 million potential buyers monthly, according to a recent press release.
Premier empowers agents with a suite of listing services that includes lush HD photography and drone footage, a "cinematic video, a Matterport 3D tour and individual property website for each listing, all backed up by print ads in high-end publications, custom-designed e-mail blasts and social media advertising and direct mail.
Liguori said the company's marketing power and extensive connections to elite clients in Palm Beach, Boca, Fort Lauderdale and elsewhere provide powerful benefit to the Vero Beach office with online generated leads for island homes channeled directly to local listing agents and a flow of buyer referrals from South Florida, one of Vero's top feeder markets.
As an example he mentioned that "an agent in our Fort Lauderdale office referred the buyer that purchased 2150 South A1A for $10.25 million." That property in the estate section – commonly called the "barcode lady's house" – was listed by a Premier agent in the Vero office who welcomed the South Florida referral and closed the deal.
Looking ahead, Liguori said, "we see business leveling off [in the face of rising interest rates, inflation and recessionary fears], but we don't expect a major contraction. We are very bullish. We think our macro-market in Florida and our six micro-markets will remain strong.
"Between 2007 and 2010, the market went down 45 percent in value and the number of sales was way down too, industry wide. But Premier Estate Properties' sales increased all throughout that period because our clients know that we are trustworthy advisors. Because we always put the client first, we do well in all markets.
"Change is the nature of the real estate industry but constancy is the character of Premier Estate Properties."
As for the Vero office, Liguori said he has been approached by local agents interested in joining the company and it's possible existing Premier agents from South Florida could bring their talent and expertise to the island.
"Everything is on the table," he said, adding that the company is fully committed to Vero Beach, where it has had an office since 2007.