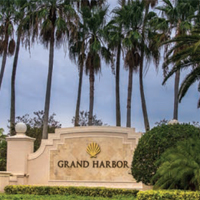 Sheriff's Office investigating a rash of residential burglaries in Grand Harbor
STORY BY RAY MCNULTY (Week of July 7, 2022)

The Sheriff's Office is continuing to investigate a rash of residential burglaries that occurred from mid-May through mid-June in the Grand Harbor community on the mainland, an agency spokesperson said last week.
Three of the burglaries were at townhomes on St. David's Lane.
According to the spokesperson, detectives said there were no signs of forced entry and they believe each case was a "crime of opportunity" that occurred where doors had been left unlocked.
Detectives have been in contact with homeowners, Grand Harbor's security team and the country-club community's Safety Board. They have encouraged residents to lock their doors, even if leaving the premises for a short period of time, and report any suspicious activity they see during their daily routines.
The detectives also recommended the installation of home-security cameras.
On June 16, the community's property manager sent out an email message informing residents about the burglaries and urging them to lock their doors when leaving their homes and, if they have them, activate their security alarms.
The chairman of Grand Harbor's Community Safety Board did not respond to multiple phone messages.