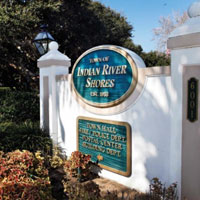 Shores cop facing felony charges in domestic dispute
STORY BY RAY MCNULTY (Week of July 7, 2022)

A now-former Indian River Shores Public Safety Department officer faces two felony charges and a first-degree misdemeanor in connection with what police say was a violent domestic dispute at a Brevard County hotel last week.
Solomon "Joe" Parrish, 55, was arrested at his home in Sebastian after getting into an argument with his longtime girlfriend during a stay at the Hampton Inn & Suites in West Melbourne two Sundays ago.
Shores Public Safety Director Rich Rosell declined comment on the arrest, calling it a "personal matter" that did not involve his agency, but he said Parrish's employment with the town ended Friday.
As for whether the arrest contributed to Parrish's dismissal, Rosell said, "He failed to meet the terms of his probationary period" and did not elaborate.
Rosell said Parrish, a former Indian River County sheriff's deputy and private investigator, was a member of his agency for about 15 months and was "triple certified" as a law enforcement officer, firefighter and emergency medical technician.
Parrish's 12-month probationary period began after he graduated from the fire academy this past spring, Roselle said, "so he had roughly 10 months to go."
According to the West Melbourne Police Department's probable-cause affidavit, Parrish refused to allow his girlfriend to leave the hotel room – physically blocking the door, shoving her, pushing her head against a wall, knocking her to the floor and preventing her from using her wrist phone to call 911 for help.
While the woman was on the floor, the affidavit states, Parrish "leaned over her and ripped off her Apple watch and began banging it on the bathroom sink until it was disabled."
The woman, who lives in Fellsmere, finally managed to escape when Parrish's back was turned, the affidavit continues, adding that she had cuts on her left elbow, bruising on her right arm and a chipped tooth.
The couple had been in a "romantic relationship" for approximately 20 years, the affidavit states, but the woman's adult daughter said the relationship had been "on and off."
Parrish was charged with one felony count each of false imprisonment and tampering with a witness or victim, as well as one misdemeanor count of battery – domestic violence. He spent nearly 15 hours in the Indian River County Jail before being released on $15,000 bond and ordered to have no contact with the woman.
The affidavit states Parrish refused to give police a statement after his arrest.
The case has been transferred to Brevard County, where the incident occurred, but records there did not include his next court date. Reached via text message, Parrish did not offer a comment on his arrest or departure from the Indian River Shores Public Safety Department. He wrote that he has retained the services of an attorney.
The woman's daughter said her mother is afraid Parrish might try to harm her again and is seeking a restraining order. A hearing is scheduled for today (July 7) before Circuit Judge Cynthia Cox in Vero Beach.
The daughter also said her mother has asked the court to redact her name from public records in accordance with Florida's victims' rights law.