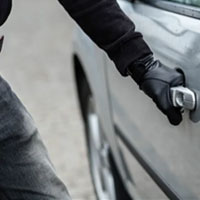 South Beach hit by rash of car burglaries
STORY BY RAY MCNULTY (Week of July 21, 2022)

At least nine vehicles were burglarized last weekend in the South Beach area.
Five of the burglaries occurred along Sandpiper Lane, one block south of East Causeway Boulevard (17th Street), where Vero Beach Police responded to a visitor's complaint Saturday morning that her purse had been stolen from her unlocked van.
The Indian River County Sheriff's Office, meanwhile, was investigating at least four other auto burglaries on the barrier island, south of the Vero Beach city limits.
Vero Beach Police Chief David Currey said Monday that a woman visiting from Pennsylvania flagged down an officer on patrol to report the burglary, which occurred between 8:30 p.m. Friday and 7:20 a.m. Saturday.
Currey said the woman's purse was later found in the roadway near the home where she was staying, but her wallet – which contained her driver's license and bank cards – was missing.
The wallet was found by sheriff's deputies in the Pelican Lane neighborhood, prompting police to believe the South Beach auto burglaries in the city and unincorporated county were related.
Officers who canvassed the Sandpiper Lane neighborhood discovered four other vehicles on the same street had been illegally entered, Currey said, adding that the owners didn't want to file police reports.
Those vehicles also were unlocked, Currey said, and although they had been "rummaged through," nothing appeared to have been taken.
Sheriff's Office spokesman Lt. Joe Abollo did not respond to voice and text messages left on this phone, and as of late Monday, the agency still hadn't provided the incident reports requested by Vero Beach 32963.
Currey, however, said his department listed four Sheriff's Office case numbers pertaining to the auto burglaries in the county. He also said deputies might have uncovered doorbell camera footage of a possible suspect.
"We continue to tell people to lock their vehicles, but they just don't do it," Currey said.
"If a potential burglar sees something of value, he might break a window to get in. More times than not, though, if the vehicle is locked, he's going to move on."