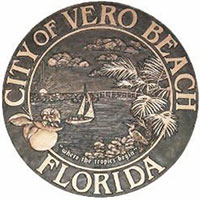 Vero slashes amount of stormwater tax
STORY BY RAY MCNULTY (Week of July 28, 2022)

The Vero Beach City Council decided last week to use federal COVID-19 relief funds to cover most of the $1.1 million cost of next year's planned stormwater management projects to help reduce nutrient runoff going into the Indian River Lagoon.
After a sometimes-tumultuous, three-hour public discussion, the council voted to have taxpayers pay only 10 percent of the amount they would've paid under the stormwater tax rate structure they had approved in June.
Owners of average-size homes will now be required to pay $7 instead of $75 for the year when they receive their tax bills in November.
The amount of the stormwater fee depends upon each property's impervious surfaces, such as buildings, driveways and patios that don't absorb water. Government-owned land and nonprofits like churches also would be assessed, according to the paved or impervious area on the property that contribute to the city's total stormwater runoff problem, just like homes and businesses.
The amended plan, which was approved in a 3-2 vote, will cover only the coming fiscal year. Taxpayers can expect to pay considerably more in fiscal 2023-24, when the council sets a new stormwater tax rate structure.
"I don't like it, but it's better than the alternative," Mayor Robbie Brackett said after joining Vice Mayor Rey Neville and council member John Cotugno in voting to approve the reduced tax. "I still don't think we should pay anything when we have the money in Rescue Plan funds."
Bob McCabe and Honey Minuse cast the dissenting votes.
Several council members expressed concerns about the discrepancies in the plan, as well as the absence of incentives for taxpayers – especially businesses – to invest in efforts to mitigate the stormwater runoff on their properties.
"The objective here is to clean up the lagoon," McCabe said. "The objective here is not to raise $1.1 million."
Minuse offered a compromise that called for using the American Rescue Plan funding to cover 50 percent of the $1.1 million, so the federal money would still be available for other expenditures when needed, but the council opted for 90 percent.
Critics of the plan included Piper Aircraft, Corporate Air and the Taxpayers Association of Indian River County.
The largest commercial property owners could've paid nearly $50,000 per year, with the exact amount determined by the size of the parcel and how much of it is paved.