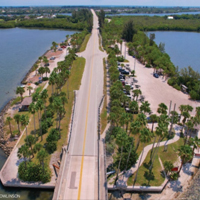 Wabasso Causeway landscaping nearly finished
STORY BY SAMANTHA ROHLFING BAITA (Week of July 7, 2022)

The Florida Department of Transportation says the planting of new landscaping along the Wabasso Causeway should conclude this week, but that work will soon start on removing the stanchions that line both sides of the high bridge that carries traffic across the lagoon to the barrier island.
Area residents were dismayed last year when the Australian Pines that had, for decades, provided shade and (many thought) beauty along the river in the little parks along the causeway were removed by the FDOT at a cost of approximately $112,000 because they are officially considered "invasive non-native species detrimental to our Florida environment."
Over the past several weeks, the pines have been replaced with native trees and palms that FDOT deems more appropriate for the coastal environment: gumbo limbo, with a maximum height of  16-18 feet; Pigeon plum, 12-14 feet; Sabal palms, 10-30 feet; and buttonwood, 12-14 feet. Most of the new trees are already in the ground and stabilized with supports.
While critics generally feel the new vegetation is quite sparse, trees and palms grow very rapidly in Florida.
The high span over the lagoon was built in 1970 to replace the historic wooden swing bridge constructed in 1920. 
Last September, FDOT's $180,000 bike and pedestrian safety project – which included a 3-foot chain link fence along both edges of the bridge – hit a snag when residents drowned the plan in a flood of complaints that the fence would destroy the iconic river view.
While stanchions for the chain link fence had already been put in place, FDOT shifted to a Plan B which met with residents' approval. The original contractor, however, then ceased operations.
The state sought bids for Plan B, but those came in an unacceptable $1.5 million higher than the original cost. Finally, working closely with the county Municipal Planning Organization, FDOT decided to design a stand-alone project for which state funding is available.
According to Grace Ducanis, communications officer for FDOT District 4, "The high span project (Wabasso Railing) has been let (out for bid) and selection of the contractor is under way. Once the selection has been completed, the contract will be executed. The project is still on schedule to begin in the Summer of 2022."