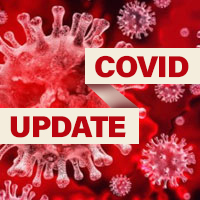 Alarming spike in Covid deaths, infections here
STORY BY LISA ZAHNER (Week of June 9, 2022)

Eleven local people died with COVID-19 illness since May 1, bringing the countywide death toll to 663 people, as Indian River County has joined virtually all of Florida in the "high" community transmission zone with new infections up 22 percent this week.
Friday's county-by-county case tally showed 433 new infections here reported to the Florida Department of Health for the week ending June 2. That's up from 353 cases on the previous report. The new infection rate of 62 per day at the start of June is up roughly 50 percent from the per-day average of 40 for the month of May.
Most of Southeast and Central Florida is now in the Center for Disease Control and Prevention's high COVID-19 community level category, which factors in not only case numbers, but what percentage of hospital resources is being used to care for covid-positive patients.
The CDC COVID Data Tracker cites 21 new hospitalizations last week, up from 16 the previous week, and notes that 5.3 percent of local staffed hospital beds are now being used to treat COVID-positive patients. That's up from 3.9 percent the previous week.
But as of Monday, the local bed count of COVID-positive patients seemed to be holding fairly steady as compared to last week. Cleveland Clinic Indian River Hospital spokesperson Arlene Allen-Mitchell said "we have 16 COVID patients at Indian River Hospital. None are in critical care." Last week the hospital had 17 COVID-positive patients, two of whom were in the ICU on ventilators.
Testing at medical offices, and centers that report to the Florida Department of Health is on the rise, with roughly 52,000 people being tested per day statewide, and a positivity rate of 16.2 percent.
Locally, more than 450 people are being tested each day, with 15.2 percent of those tests coming back positive. These statistics do not include the popular and widely available rapid antigen tests people take at home. If those people who test positive never seek medical care or a test to confirm at a facility that reports test results, those positive cases are not counted.
Only 23 Indian River County residents received COVID-19 vaccinations last week, according to state health officials. Statewide, more than 42,000 people received a shot last week; 32,500 of those were fully vaccinated people getting recommended boosters.
Nationally, news broke on Monday in an NBC News report saying the CDC revealed that more than 82 million doses of COVID vaccine were discarded over the past year and a half, in large part due to the decline in demand, forcing pharmacies to toss out expired vaccine and open vials with doses unused at the end of the day.
Also on Monday the CDC heightened its alert level for travelers regarding the monkeypox virus.
There have been nearly 1,000 documented cases in 29 countries, including three cases in Florida, 24 cases in the U.S., 80 cases in Canada, 225 in the United Kingdom, 186 in Spain, 143 in Portugal, 65 in Germany and 51 in France as of Sunday.
"Many of these people have not recently been in central or west African countries where monkeypox usually occurs," according to the CDC.
The heightened Level 2 advisory means travelers should practice "enhanced precautions," including avoiding sick people or anything a sick person has touched, wearing a face mask while traveling and avoiding travel if they have an unexplained skin rash, with or without fever.