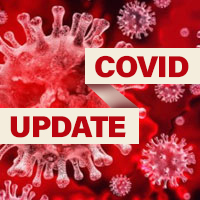 COVID cases here seem to be leveling off
STORY BY LISA ZAHNER (Week of June 16, 2022)

The Centers for Disease Control and Prevention said 415 new COVID-19 cases were reported locally in the seven days preceding Monday press time, with hospitalizations remaining about the same as the previous week and testing down 12 percent.
The CDC data is always incomplete on the weeks that the Florida Department of Health does not report county-by-county numbers, but the 415 new weekly cases is fairly comparable to the June 2 state report showing 433 new weekly cases.
Hospitalizations also remained about the same this week – the CDC reporting 20 people newly hospitalized with covid-positive test results, compared to 21 the previous week.
As of Monday, Cleveland Clinic Indian River Hospital had two fewer covid-positive patients than one week earlier. "We currently have 15 patients with COVID this morning in-house:  two are in the Intensive Care Unit," hospital spokesperson Arlene Allen-Mitchell said on Monday.
The CDC reports that covid-positive patients occupy about 5.5 percent of staffed hospital beds countywide, and 3.4 percent of intensive-care beds. Despite the high levels of community transmission, with hospitalizations remaining relatively low, conditions have not warranted any tightening of the hospital's visitation policies.
For the 400-plus people testing positive for the virus each week, those who are concerned about avoiding serious COVID-19 illness and hospitalization are now encouraged to seek an early treatment which is administered in pill form.
Treasure Coast Community Health is offering this oral treatment to covid patients without an in-person doctor visit.
"The process is very simple, if someone suspects they are COVID positive they should get tested as soon as possible.  If they have received a positive test result (including if it is from an outside commercial pharmacy), they can call TCCH to schedule a telehealth visit," Treasure Coast Community Health Community Relations and Outreach Director Colette Heid said.
Expect the telehealth visit to be the same day, as it's considered an emergency appointment. "The medical provider will assess the situation and if warranted prescribe Paxlovid," Heid said.
Time is of the essence to get evaluated and treated. "Paxlovid must be administered in the first two days of onset," she said.
Those seeking treatment do not need to be established Treasure Coast Community Health patients to use this service. "The patient should call our main number 772-257-8224 and request to be seen for COVID. At that point, the telehealth visit will be scheduled," Heid said.
If treatment is prescribed, the patient can simply drive up to the clinic and TCCH staff will bring the Paxlovid out to the vehicle for added safety and convenience.
Pfizer says of its product: "The FDA has authorized the emergency use of PAXLOVID, an investigational medicine, for the treatment of mild-to-moderate COVID-19 in adults and children (12 years of age and older weighing at least 88 pounds [40 kg]) with a positive test for the virus that causes COVID-19, and who are at high risk for progression to severe COVID-19, including hospitalization or death, under an EUA."
Despite the number of new infections increasing roughly 50 percent countywide so far in June compared to May, this latest COVID-19 surge has not yet translated into an increased demand for vaccine shots as only a few dozen of Indian River County's 160,000 residents have been seeking shots each week.
As of Sunday, 76.6 percent of adults in Indian River County are fully vaccinated, but only 49.4 percent of adults have had at least one booster dose.  And while 95 percent of local seniors age 65 and older are fully vaccinated, only 63 percent of the county's seniors have had a booster. Taking all age groups into account, approximately one-third of county residents are fully vaccinated and have had at least one booster dose of vaccine.