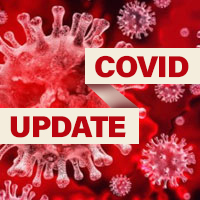 Five more people die here in June with COVID-19
STORY BY LISA ZAHNER (Week of June 30, 2022)

At least five more local people have died with COVID-19 as June comes to a close, putting the Indian River County pandemic death toll at 668 since March 2020, 16 of whom have died in the last two months.
That brings the total number of covid-positive people who have died in our community since Christmas to 98, or an average of 16 deaths per month.
The Centers for Disease Control and Prevention reports that 21 Indian River County residents were hospitalized last week with COVID-19, down very slightly from 22 the previous week. 
But Cleveland Clinic Indian River Hospital had 20 covid-positive patients in-house Monday, up from 19 a week earlier. Of those patients in the hospital, three were in the intensive-care unit and two were on ventilators, according to hospital spokesperson Angela Gameotea. The previous week only two were in the ICU, neither was on a ventilator.
The CDC estimates that 6.4 percent of staffed hospital beds and 7.2 percent of ICU beds locally were devoted to covid-positive patients this past week. The CDC tracks this statistic on a county-by-county basis to help determine the resources required of the local medical community to care for COVID-19 patients, and that figures into the county's Covid Community Level, which for Indian River County remains in the "high" category.
Statewide, Florida remains a hot spot for COVID-19 along with California, New Mexico and Hawaii. Other than New Jersey, which has a substantial number of covid infections, the Northeast is seeing a fairly mild covid summer right now, according to the CDC.
The states reporting the lowest per capita new cases on the CDC map this past week were Vermont, New Hampshire and Maine.
South Carolina and North Carolina appear to be a pocket of low infection  among Southern states with moderate to substantial community spread.
There was no report from the Florida Department of Health on case numbers, testing and vaccinations, as that agency only reports every other week.
But the CDC shows all of South Florida and the Treasure Coast as still an area of high community spread of the virus, meaning that residents should take precautions to keep from getting sick. Influenza A is also spreading through the community, and the same measures such as vigorous hand-washing, social distancing indoors and staying home if you're sick help slow the spread of both viruses.
Medications are available to treat both COVID-19 and Influenza A, but they must be prescribed early on in the course of either disease to be effective.