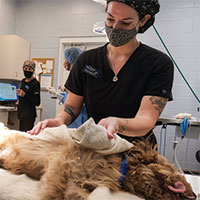 Inflation sending more pets to Humane Society
STORY BY NANCY SAPEY (Week of June 23, 2022)
Photo: Veterinary Technician Nicole Simonetti assists in a procedure.

With runaway inflation and the housing crunch making it tougher for some local residents to keep their pets, the Humane Society of Vero Beach and Indian River County is combining efficiency and creativity to place as many animals as possible with good families.
Tracey Kinsley, chief communications officer for the Humane Society, pointed to big changes the organization has made in recent years, which resulted in a 90 percent "save rate" for animals in 2021 – up 43 percent from 2016. The society cared for more than 3,100 animals last year.
The average canine stay in the shelter has been cut in half since 2016, with the typical dog only spending about two weeks at the Humane Society now. But a big component of the 3,100 animals is cats and kittens, and they are finding adoptive homes quicker, too. In 2016, the average stay for cats was 49 days. That was down to 24 days in 2021. So far in 2022, it's even lower at 20 days.
Presently the Humane Society is sheltering 150 animals and is publicizing "Kitten Season" this month focusing on the plethora of rescue kittens. There are 40 kittens available right now for adoption. "Buy one, get one free is the motto for the program," Kinsley said.
Helpless kittens are often left in the wild this time of year, and are brought into the center by residents and by the Indian River County Animal Control who find them.
Kinsley noted that most cat mothers return to their kittens, and said the public needs to not be so quick to rescue babies in the wild.
Friday afternoon at the Humane Society center, a family with several children came searching for their lost cat. Their faces were glum as they searched each cat room with no success. Finally, it appeared they had decided to adopt one of the kittens in the nursery.
Another area housing dogs for adoption is the Small Dog Room. Cages contain a variety of small breeds of all ages. The canines lounge on beds raised off the ground, have blankets, water and food bowls, toys and treats. Volunteers assist in walking them and provide attention until adopted.
On top of the animals surrendered at the shelter, cases of animal neglect, cruelty and illegal breeding farms have added to the center's population.
One feisty little, short-haired, tricolor dog was left by himself in the home of his owner who was hospitalized. He was at home alone for two weeks until found and brought to the center. Another 14-year-old terrier's owner had passed away. The senior dog just stares down through the cage with his forehead leaning on the bars.
Kinsley said the Humane Society is proud of its increasingly high rate as a no-kill shelter. Its Out-reach Program assures that animals will be provided care and hospice services if necessary. It is important for people to be aware of neighbors living alone with pets who are suddenly hospitalized. The pets may be brought to the center until the owner is ready to reclaim them.
Kinsley said the Humane Society acts as a depository for Indian River County Animal Control, the county-run program which has no shelter of its own. Once animals are brought into the Humane Society, they are examined and labeled. Animals are held for 5 days. If no one claims them, they become the property of the Humane Society and may be put up for adoption.
Animal Control uses a scanner to search for a microchip on animals retrieved. Most pets are found within one mile from their home. A few pets have even been flown back to Oregon and Puerto Rico after finding owners via the chip. Pets can be lost while vacationing or, worse, abandoned by owners.
Euthanasia is reserved for extreme conditions only, such as an impending death or imminent danger to human beings – a last resort. Only 3 percent of animals have to be euthanized, Kinsley said. The determination goes through multiple layers of examination and a 15-staff member decision process.
The Humane Society of Vero Beach and Indian River County has served the community for nearly 70 years, opening as a nonprofit in 1953. It's supported by a foundation, directors and advisory board members, scores of volunteers and generous benefactors.
"This is not a franchise and we are not affiliated with the national humane society as seen on television commercials," Kinsley said. "We collect no funds from these ads. We are completely dependent on donations from our residents and local foundations to operate."