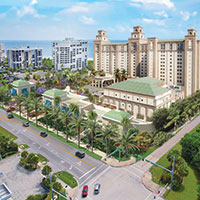 Is our island ready for a 'destination resort'?
STORY BY STEVEN M. THOMAS (Week of June 30, 2022)

In the '70s, it was a Holiday Inn. In the '80s, it became Ramada Inn Resort.  In the '90s, it was upgraded to a Radisson. Then came Hurricanes Frances and Jeanne, and for most of this century, this prime piece of beachfront property has been an empty, weed-infested lot.
Now, real estate insiders are asking whether the time may finally have come for development of a luxury hotel and condo project on a site that would be the only "destination resort" between Vero Beach and Palm Beach.
"It is a special property. There isn't another parcel on the coast of Florida with 500 feet on the ocean that is already zoned for a hotel and condo resort," said Bob Lowe, broker/owner of Lowe's International Realty Plus, whose office is located diagonally across the road.
The 11.8-acre site is located on the ocean side of A1A – just a 20-minute drive south of Sexton Plaza – right where the two-lane state highway makes a 90-degree turn, and heads toward the north Fort Pierce causeway with its picturesque, soon-to-be demolished drawbridge.
The current owner, who bought the property for $15.5 million in December, has cleaned the site up and recently completed a survey, according to Lowe, who represented both sides in the transaction.
But Lowe would not identify his client. Public records show the new property owner as 2600 N. Highway A1A, LLC, an entity created 10 days before the December sale. A further search turned up another LLC created in October listed as the registered agent of 2600 N. Highway A1A, LLC, and then yet another LLC leading back to an asset protection attorney in Lake Mary, Florida.
"The owner is a very private guy," Lowe said.
But the property is not for sale at the moment, which makes it seem like the new owner isn't looking to flip the parcel – which has been sold every eight years like clockwork since the 1990s.
All of which raises two questions: First, what are the owner's plans; second, why has this world-class piece of oceanfront property been inhabited by nothing but weeds and small animals all these years?
According to Lowe, approximately 100 investors and developers have looked at the property over the past eight years, "many of them serious, qualified buyers," and it was under contract multiple times.
George Heaton, developer of the Vero Beach Hotel and Spa, took two serious runs at the property, proposing a 400-room hotel and condo complex loaded with amenities in 2013 and a 170,000-square-foot, $70 million resort in 2017.
Las Vegas billionaire Phil Ruffin, who was the seller in December, also sought to build a large hotel and condo complex, working with Lowe to get the site rezoned CR, commercial resort, a custom-designed zone that exists nowhere else in St. Lucie County. 
So what is the holdup?
An official in the St. Lucie Planning Division told Vero Beach 32963 last week that the coastal construction control line, which demarks how close development can be to the ocean, runs "right through the middle of the property."
But Vero developer Yane Zana said the line is not an impediment to building on the site.
Zana knows oceanfront development as well as anyone, having done multiple projects on the water in Indian River and Brevard counties, including Blue at 8050 in Indian River Shores and Indigo in Vero Beach. "There are zero problems developing the site," Zana told Vero Beach 32963. 
"It is ripe for a luxury hotel and condo project, the kind of destination resort you see in South Florida where guests check in and don't leave until their vacation is over, because everything is right there – the spa, the gym the restaurants and shops," Zana said.
"There is nothing like that north of The Breakers in Palm Beach."
Douglas Elliman broker-associate Sally Daley seconded Zana's assertion.
"Absolutely. One-hundred percent," she said.
Daley has a mostly vacant 9.4-acre mixed-use parcel across the road listed for sale, and she said one of the parties circling that property is interested in the oceanfront parcel as well, thinking in terms of a combined development.
"My property could be used for parking and amenities, allowing a developer to maximize the number of hotel rooms and condos on the oceanside," Daley said. "It would also add river access along with ocean access."
Zoning on the oceanside would allow "shops, restaurants, tennis courts, swimming pools and wave pools," in the words of the St. Lucie County planner, along with 12-story hotel and condo towers that would take in sweeping views of North and South Hutchinson islands and the Fort Pierce Inlet all the way back to the city's busy waterfront dining and shopping district.
There is a wide-accreting beach in front of the property and phenomenal fishing, boating and other water recreation opportunities close at hand. If a guest did want to venture off the premises, Fort Pierce's lively downtown and Vero's seaside shopping, dining and cultural district are both a short drive away.
The Breakers sits on much more land than is available at the south island site, but other successful destination resorts would fit nicely on the parcel.
Acqualina Resort & Residences in Sunny Isles, for instance, which Zana mentioned as a prototype, is located on just 4.5 oceanfront acres.
Within those confines it encompasses "a luxury seaside haven ... with unprecedented accommodations and service, world-class dining destinations, three oceanfront swimming pools, Acqualina Spa, spacious meeting rooms, and an innovative marine biology-based AcquaMarine program," according to the resort, which was "recognized in the 2022 U.S. News & World Report's Best Hotels rankings as the No. 1 Best Resort in the Continental U.S."
Something along those lines would be a nice addition to the island and there is every reason to think it could be successful.
The first hotel built on the site, The Holiday Oceanside Inn, thrived back in the 1970s when the combined population of St. Lucie and Indian River counties was around 100,000, one fifth of the population today.
The Holiday Inn was converted to the Ramada Inn Resort in 1983, according to local history sources. In turn, the Ramada became a Radisson in 1995 when it was purchased for $3.6 million by a Texas company that invested another $4.5 million into upgrades and operated the hotel until the 2004 hurricanes.
By all accounts the Radisson was a busy place in the 1990s and early 2000s. Vero Beach commercial real estate broker Keith Kite remembers a happening poolside scene with live music on weekend evenings and press reports from the time say the hotel – which had 150 rooms, two restaurants, multiple meeting rooms and a ballroom that could fit 300 for dinner – was popular and well patronized by community and corporate groups as well as beach vacationers.
The 2004 hurricanes put an end to that tiki torch era but another developer immediately swooped in with a huge, $100-million-plus luxury condo concept, purchasing the property for $17.9 million and getting it rezoned residential.
The real estate recession scuttled those plans and the property steadily lost value during the downturn until it was purchased by Ruffin for $6 million in December 2013.
In Ruffin's portfolio, it steadily gained value for eight years until it was sold in December 2021 for $15.5 million.
Now it is in the hands of the new unidentified owner, and even though his plans are under wraps, one thing is certain – the barrier island and surrounding areas have matured since the Radisson's heyday.
Many new luxury developments have been built up and down the island, the population has increased substantially and Vero has become a nationally known vacation, retirement and real estate investment destination.
Fort Pierce's waterfront has been beautifully revamped, a new north causeway bridge is in the works that will end drawbridge delays and there are two small but modern airports nearby that can handle any kind of private jet traffic. Treasure Coast International Airport in St. Lucie County already has a customs facility for overseas flights and Vero Beach Regional Airport is slated to have one soon.
With no competition between here and Palm Beach, maybe Zana and Daley are right.  Maybe the time has come for a destination resort.