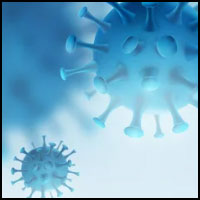 Little optimism at start of third summer of Covid
STORY BY LISA ZAHNER (Week of June 2, 2022)

This summer is not last summer.
A year ago as vacation time arrived, an air of optimism was beginning to take hold.
New COVID-19 cases here had dropped to the lowest point since the start of the pandemic, and local residents were lining up by the thousands to get vaccinated.
Maybe a combination of immunity from the 2020-2021 winter infections, plus the increasingly widespread availability of vaccines, was finally going to end the pandemic.
A year later, the hope of jettisoning COVID-19 has given way to the mundane reality of  "living with" the virus.
New infections here are at least triple what they were last May; the number hospitalized here is once again climbing week after week; and few local residents are getting vaccine booster shots.
Indian River County residents are among the half of the U.S. population now living in areas classified as having medium or high COVID-19 levels by the Centers for Disease Control and Prevention.  The United States is recording more than 100,000 new infections a day – at least five times higher than this point last year. The local statistics tell an equally discouraging story.
Last May, an average of 16 people per day here were testing positive for COVID-19, and there were no off-the-books home tests so that was probably a pretty accurate number of new infections. This May, about 40 people per day were testing positive for COVID-19 at testing centers, pharmacies or medical offices that report positive tests to the Florida Department of Health – plus the unknown number of people testing positive on home tests kits who never seek medical treatment. Conservatively, the local new infection rate is three times what it was in May 2021.
In April 2021, more than 20,000 Indian River County residents got vaccine shots, followed by another 7,500 that May.  During the same period this year, fewer than 40 people were being vaccinated each week, meaning an awful lot of "fully vaccinated" people are counting on shots they got maybe eight months ago during the Delta surge – or even a year ago – to still offer some protection.
Hospitalizations here also have been rising steadily each week. On May 23, Cleveland Clinic Indian River Hospital reported 14 people in the hospital, none in the intensive care unit. Going into the Memorial Day holiday weekend, Cleveland Clinic Florida spokesperson Arlene Allen-Mitchell said "we have 16 COVID patients in-house plus one infant. Two of the 16 (adults) are in ICU, both ventilated."
But as the virus morphs and the scientific understanding of how it operates shifts with each variant, even the vaccinated and boosted now grudgingly accept that the coronavirus is here to stay as governments abandon measures to contain it. 
And local residents – like millions of Americans – are drawing their own lines for what they feel comfortable doing.
Nearly three-quarters of Americans say they hope to vacation this summer, and fewer than a third say coronavirus is a major factor in their plans, according to a recent Washington Post-Schar School poll.
Parents of unvaccinated children are making cross-country travel plans. Senior citizens are venturing to bars. Graduations, proms and weddings have also returned after being canceled in earlier stages of the pandemic when cases were lower than they are now.  And families are celebrating with throngs of mostly unmasked revelers.
"Over the Memorial Day holidays, if you are in settings where you are indoors with large numbers of people without masks … there is a good likelihood you will suffer a breakthrough infection," said Peter Hotez, dean of the National School of Tropical Medicine at Baylor College.
The dominant strain of the virus right now has been recently shown to have a replication rate of 1. That means every 10 people infected will, in turn, infect another 10 people.
But there are two emerging strains gaining steam this summer in the United States, causing nearly 15,000 of the daily 100,000 cases. Those two variants, dubbed BA.4 and BA.5, have a replication rate of 1.2 and 1.5 right now. That means for every 10 people infected with those variants, those people will go on to infect 12 people, or 15 people – depending upon the variant.
Experts say vaccines are still showing durability in protecting people against severe illness. But the initial burst of antibodies from shots or infections fades after several months, said Celine Gounder, an infectious-diseases specialist at Kaiser Health News.
For those wanting extra protection, the good news is the long lines and wait times for vaccine – or a booster shot – are a thing of the past.
Fenit Nirappil, Craig Pittman and Maureen O'Hagan of the Washington Post contributed to this story.