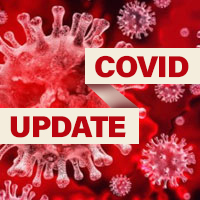 New COVID-19 cases here still in high category
STORY BY LISA ZAHNER (Week of June 23, 2022)

New COVID-19 cases locally reported to the Florida Department of Health increased at a slower pace this past week, up 6 percent from 433 to 459.
That number does not include people who test positive via widely available home test kits and then never seek medical attention, as home test-kit results are not reported nor included in the state reports.
Indian River County, as well as the whole Treasure Coast and all of Florida's southeast coast, remain in the high community transmission and high covid community level categories, with 65 people on average per day testing positive at a facility that reports to the Florida Department of Health. That's up from 40 per day in May.
The Centers for Disease Control and Prevention reported 22 people were hospitalized locally last week with COVID-19 and that 5.3 percent of staffed hospital beds countywide are dedicated to caring for covid-positive patients. That's up 10 percent from 20 hospitalizations on the CDC report one week ago.
"As of this morning we 19 patients in house with COVID, two of which are in critical care but not mechanically ventilated," said Arlene Allen-Mitchell, spokesperson for Cleveland Clinic Indian River Hospital. That number was 15 at the same time last week.
The uptake of vaccines remains very slow locally, as only 22 people got shots countywide in the week ending June 16.
The U.S. Food and Drug Administration approved covid vaccines for babies as young as six months old and the CDC agreed with this decision.
"COVID-19 vaccines have undergone – and will continue to undergo – the most intensive safety monitoring in U.S. history," CDC Director Rochelle Walensky said. "Parents and caregivers can play an active role in monitoring the safety of these vaccines by signing their children up for v-safe – personalized and confidential health check-ins via text messages and web surveys where they can easily share with CDC how a child feels after getting a COVID-19 vaccine."
But Florida's top public health official questioned whether the benefits of vaccinating the very young under the FDA's Emergency Use Authorization outweigh the potential risks "for all children."
Florida Surgeon General Joseph Ladapo has urged federal officials to gather years of data and then to consider granting regular approval for use of the vaccine to inoculate the very young.
Dozens of countries had, until earlier this month, required proof of COVID-19 vaccination to enter, which had limited travel destinations for families with young children, but most restrictions have been dropped altogether this summer, or replaced with proof of a negative covid test.
Some families want to protect elderly or immunocompromised relatives by getting babies and toddlers vaccinated, despite the relatively low risk of serious covid disease in young children, to allow safer family visits.
In Florida, out of nearly 22 million people and 6.3 million cases of COVID-19, children age 15 and younger – a much broader group than the latest cohort approved for the shot – account for nearly 14 percent of reported cases, but only 6/100ths of 1 percent (.06 percent) of covid deaths, with 46 cumulative child deaths since March 2020.
Specific data on hospitalizations and deaths in children younger than age 5 is not available on state or CDC reports.
In contrast, adults age 50 and older – a group for which public health officials recommend full vaccination plus periodic boosters – account for roughly 70,000 of the state's 75,000 deaths from covid-related illness.
The age group statewide that has been responsible for the largest number of reported cases is 16 to 29. But of the 1.38 million older teens and young adults who reported having a case of COVID-19 since March 2020, only 3/100ths of a percent (.03 percent) or 499 people died with complications from the virus.