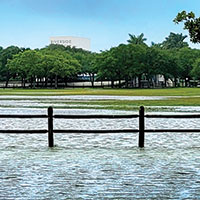 No-name storm gives island a soaking, but not much else
STORY BY LISA ZAHNER (Week of June 9, 2022)

Vero's first tropical storm warning of the 2022 hurricane season caught residents by surprise as an unnamed "potential tropical cyclone" swept across Southern Florida from the west, dumping rain and dampening outdoor Saturday plans, but not disrupting life too much.
Indian River Shores Deputy Chief Mark Shaw said the town saw no weather-related incidents or traffic snags, "just lots of rain," he said.
Indian River County Emergency Services Director Chief Tad Stone said "on average, the Vero Beach area got around 6 inches of rainfall. There were some isolated reports of areas receiving a little more than that."
Despite the deluge, Vero Beach's stormwater system held up to the test, and street flooding was minor. "No weather-related issues we are aware of with street/facility flooding or stormwater system overwhelm this past weekend due to the no-name storm," said Public Works Director Matthew Mitts, adding that he "would like to thank our streets division for preparing for the storm."
Riverside Park on the barrier island saw some flooding in low-lying areas on Saturday, as did some areas of Central Beach. "There were some isolated disruptions in the area. I lost power for a couple of hours, but the generator kept us going," Stone said, referring to his home.
Parts of South Florida were not so lucky, as more than a foot of rain fell on Friday and Saturday, making driving treacherous and knocking out power to thousands.
For Indian River County, it was a chance to dust off hurricane disaster plans.
"We did run through our activation procedures but thankfully we did not have to activate the EOC for this event," Stone said. "This is the perfect time for both residents and business owners to go through their disaster and recovery plans. It is also the right time to take advantage of the tax-free holidays."