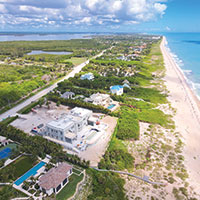 Remarkable rise of the 'Estate Section' on south island
STORY BY STEVEN M. THOMAS (Week of June 9, 2022)

Known by several names over the years – Kansas City Colony, the Cobra Zone and now the Estate Section – a bucolic one-mile stretch of the south island has been the site of an astonishing real estate transformation in recent years.
Long looked down on by brokers and buyers because it was seen as too far from town, "way down there at the south end," and because federal flood insurance wasn't available, it now is the priciest part of 32963.
The two most expensive homes ever sold on the island are both in the section and there are at least eight houses there that would sell quickly for $30 million or more if they came on the market today, according to ONE Sotheby's agent Richard Boga.
And Boga is in a position to know.
At their former brokerage, he, his partner Cindy O'Dare and their former partner Clark French did more than 50 real estate transactions in the section and French was the pioneer and chief promoter of the area until he left town several years ago.
"We have sold just about every house down there, some of them multiple times," said O'Dare.
Starting a mile south of the The Moorings and extending to the St. Lucie County line, the 21-lot section has gone in a short period from being a windswept stretch of sand dunes to a neighborhood of "fabulous mansions," in the words of Indian River County Property Appraiser Wesley Davis.
Once a graveyard of developers' dreams, it has come into its own in just the past seven or eight years as a place where wealthy buyers have built or are today building custom homes as large as 40,000 square feet for their own families.
O'Dare said the Estate Section is more popular today than ever.
"Richard and I have a legal pad full of names and details of buyers waiting to get into the section," she told Vero Beach 32963. "It has the sense of privacy, security and nature that the real luxury buyer is looking for, and that doesn't exist in many places."
"There is nothing else like it on the east coast of Florida," Davis said.
Indeed, with unspoiled natural beauty all around, expansive lots as large as 6 acres, some stretching from the river to ocean, a wide, accreting beach and what now seems like a great location – midway between Vero's Village by the Sea and the lively Fort Pierce waterfront – the appeal of the section is obvious.
So why did it lay fallow so long?
The Florida land boom and bust, the Great Depression, World War II, a FEMA decision not to provide flood insurance and a lot of bad timing are some of the reasons.
The Estate Section was first platted as the Kansas City Colony in 1921, just two years after Riomar was laid out and before Indian River County split off from St. Lucie County.
The original hand-drawn plat, which was mentioned by ONE Sotheby's broker associate Mike Thorpe and unearthed by Davis, shows 26 ocean-to-river lots, all 150 feet wide, that comprised the Colony – which was the Florida development dream of a group of businessmen from Kansas.
It never got off the ground.
There was no road to or through the section, according to the plat, and the Florida land boom busted before homes were built.
The bust made raw, remote land nearly worthless and helped usher in the Great Depression, which slowed real estate development to a crawl.
Then came WWII, during which the federal government took over a big chunk of the Colony for underwater demolition training and beach landing practice, including but not confined to the area that now is Round Island Park.
Interest remained low for decades after the war. In the 1960s and 1970s there were sales here and there to investors and a few people who built small beach houses back in what was basically still a jungle.
People subdivided some of the original 150-foot-wide lots and combined others into larger tracts. Many parcels were foreclosed on and ended up in bank portfolios over the years.
Subdivisions were planned and in some cases platted but never built. Meanwhile the dune grass continued to grow, and white-fringed waves deposited sand on the widening beaches.
"My earliest sale down there was in 1980 or 1981," said Thorpe, who has done nine or 10 deals in the section over the years. "I sold a 100-foot-wide strip to a Canadian investor for $100,000. Someone else paid $250,000 for a 200-foot-wide strip around that time."
The first major house in the section was completed in 2001, after seven years of construction.
Commonly referred to on the island as "the barcode lady's house," the home was built by Sharon Nicholson, widow of William Nicholson, co-founder of Retail Grocery Inventory Service, now called RGIS, a leading inventory-control company.
According to a 2013 Wall Street Journal article, the 23,000-square-foot house supposedly was inspired by F. Scott Fitzgerald's novel "The Great Gatsby," in which several luxurious waterfront homes on Long Island are described.
"The home has 32-foot-tall ceilings, a soundproofed movie theater and a 14-car garage. There's also a solarium, a sky deck, a guesthouse, two elevators and a swimming pool with 14-karat gold inlays," the article said.
It was the right house in the right place at the wrong time.
Nicholson put the house on the market in 2007 for $33 million but found no takers. It was on and off the market several times after that at ever-diminishing prices before finally selling at auction for $7.9 million in 2017.
Nicholson aside, the modern history of the Estate Section began around 2006 with the construction of the home at 1920 S. Highway A1A, which Boga and O'Dare recently sold – for the fourth time – for $27 million, the highest price ever paid for a house in Indian River County.
Widely regarded as the finest home in the section, it was developed by Clark French, who had moved his real estate activities from Delray and Palm Beach to Vero a few years before.
"You got to give it to Clark," said O'Dare. "He was the pioneer of that area. When I joined his company, he was researching that area and buying up property. He thought it was beautiful land and a great buy," compared to prices in Palm Beach.
French was the first to call it the Estate Section, a name he may have borrowed from the Estate Section in Palm Beach that lays south of Worth Avenue.
He developed 1920 as a spec home in partnership with an investor and two enterprising island builders, Vic Lombardi, owner of Waters Edge Development Company, and Joe Foglia.
"He spared no expense," said Tom Hoos, the architect who designed the house along with his then partner Mark Vigneault, modeling it in part on an existing historical house. "All the windows and doors were solid mahogany and we used Ludowici tile on the roof. We made the walls 16 inches thick to give the impression of solid masonry. I still get compliments on it today."
One reason French faced resistance when he began promoting the area was the lack of available flood insurance. The Coastal Barrier Resources Act of 1982 banned the sale of federal flood insurance in designated "Cobra" zones like the Estate Section.
But Lombardi said the ban is irrelevant to 1920 A1A, which is elevated on a mountain of fill 18 feet above sea level and built on a forest of 240 massive steel-reinforced concrete pilings that go down 40 feet to solid marl.
"That house and other modern houses down there built the same way could survive just about any catastrophe," he noted.
Boga said, "Pretty much everyone down there paid cash so there is no bank requirement for flood insurance, and they simply self-insure," relying on the quality of construction to keep them personally and financially secure.
O'Dare said the Palm Beach-inspired, French-Mediterranean house that French poured his heart into is "the most spectacular home in all of Vero, as relevant today as when it was built."
"With its architecture and finishes, you could drop it by the ocean in Palm Beach today and it would look like it had been there forever," said Lombardi.
But French's timing was off.
Completed in the trough of the 2008 real estate recession, the house sat on the market for a year and a half before selling for $11.4 million, much less than expected for the beautifully designed, expertly crafted, 15,000-square-foot house on a 2.5-acre ocean-to-A1A lot.
The next phase in the section came when Philadelphia billionaire Brook Lenfest bought a group of lots south of Round Island Park and built two grand spec houses, with plans to build four more.
The houses turned out great and created a lot of excitement in the Vero real estate world, but Lenfest's entrepreneurial clock was running fast, too.
The luxe, 20,000-square-foot homes were listed for $17.9 each in 2011 but lingered on the MLS for years before finally selling at auction for around $9 million each in 2015.
New York developer Marianne Cassarella also faced disappointment when she built a 9,000-square-foot spec on the northern-most lot of the Estate Section. Started in 2016, completed in 2017 and listed for $9.9 million, her house didn't sell until the end of 2019, when it went for $6.9 million.
"Everyone who has done development down here has believed they were on the cusp of a big Palm Beach migration but all of them have been a little early – including us," said Ken Cooper, a healthcare company executive and real estate developer who bought the "barcode lady's house" for $7.9 million when it was auctioned off, renovated it and resold it for $10.25 million in 2019, a year before the current boom market took hold.
"We did OK on it, but it is worth much more than that today," Cooper said.
Despite all the developer disappointments, each big new house and high-profile deal added to the section's cache and made it more appealing to incoming buyers.
"It was still pretty sparse down here when Cindy and Richard brought me and my wife Melissa to look at property in 2015, but there were a couple of beautiful houses and it seemed perfect for us," said Cooper, who owns a home at the south edge of the Estate Section, one lot into St. Lucie County.
"We have seen so many houses go up since we came," said Melissa Cooper, "and we have seen the beach behind our house get wider and the dunes get taller."
The Coopers are typical of recent buyers in the section, according to O'Dare, who says many are entrepreneurs and most are younger than the Vero average with kids at home or in college.
"These are not people who are here a few weeks a year," O'Dare said. "They are family homes where most people live at least six months of the year."
The Coopers have three children at St. Edward's School, and they say the whole family loves their secluded island home.
"We renovated this house, leased it and moved to Windsor for a while," said Ken Cooper. "Windsor is wonderful, and we are still members there, but after a year or so we moved back down to this house," where Cooper is doing a second wave of renovation and expansion.
"You have so much privacy here," said Melissa. "With the deep estate lots you are in your own little world."
Another plus for independent-minded buyers is the lack of any deed restrictions.
"I don't think there were any HOA restrictions when that was platted," said Davis. "In fact, I know there weren't. That was before there were gated communities on the island. The only gated communities we had back then were pastures, and the only rule was if you opened the gate you had to close it behind you!"
The Estate section has now begun to fulfill the promise visionaries sensed years ago as families like the Coopers move into the area not just to speculate but to put down roots and live their lives along an idyllic stretch of barrier island where they have room to build any home they can imagine, and feel safe behind their own gates.
These are the people who finally got the timing right and have seen their properties increase dramatically in value in the past two years.
The Cassarella house that sold in 2019 for $6.9 million is now on the market, along with the adjoining property, for $27 million, listed by Matilde Sorensen, co-owner of Dale Sorensen Real Estate.
It is under contract and if it sells for list it will equal the record set at 1920 A1A last year when that property sold for $10 million more than its previous sale price in 2015.
There are 21 estate homes or lots in the section, 14 north of Round Island Park and seven south of the park, with just a couple closely held lots remaining. As the "magnificent mansions" have gone up in recent years they have sparked a series of rumors about who the buyers and builders are.
"People are absolutely convinced Mark Zuckerberg has a house down there," said O'Dare, "but I can tell you for sure that he doesn't. Neither does Nancy Pelosi or Adam Sandler!"