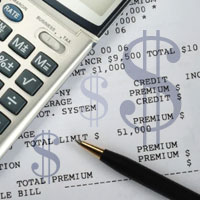 Will new law help curb rate hikes for property insurance?
STORY BY LISA ZAHNER (Week of June 16, 2022)

Whether a new state law passed during a May special session of the legislature will do anything to bring rate relief to island homeowners facing soaring property insurance premiums is still unknown, but local insurance professionals are cautiously optimistic that the reforms – when they kick in – will make a meaningful difference.
The law, signed by Gov. Ron DeSantis on May 26 and set to take effect July 1, attempts to tackle some of the main causes of recent premium hikes, while providing a $2 billion "reinsurance fund" to offset insurance companies' hurricane losses.
The law also protects property owners from getting their insurance canceled for having a roof newer than 15 years old, while aiming to limit court awards for attorney fees and fraudulent claims made by unscrupulous contractors.
Former Vero Beach Mayor Harry Howle, a partner at Gottzmann Insurance Group on Ocean Drive, has closely followed the various bills that have been proposed over the past few years to alleviate Florida's insurance crisis. Howle wrote a letter to the Republican Majority Whip in the Florida House, Rep. Chuck Clemons, urging against piecemeal reform, or a simple rate freeze.
"As an insurance agent of 23 years, I have not seen such difficult times with the status of this industry. Companies are leaving, underwriting guidelines are impossible, and almost every insurance company represented in Florida is operating in the 'red.' Something must be done to prevent further damage of what will surely be a catastrophic change in the economic landscape of Florida," Howle wrote to Clemons.
Some of the bullet-point items Howle pointed Clemons to are pretty esoteric, but in general he wanted a change in the way roofs are valued, plus several changes that need to take place in the civil courts on a case-by-case basis as lawsuits are waged. Time will tell if the law is bulletproof in reining in judgments on insurers that are four to five times the dollar amount of the original claim due to one sided legal fee awards, or full of loopholes to exploit.
Howle said the law that goes into effect July 1 was a compromise which took aspects of competing bills and attempted to meld them into cohesive solution. He's skeptical that it's a fix, and lots of practical aspects of the law are still being analyzed. But he hopes it will at least help stop the bleeding for insurers and for his island clients. Even since the law was signed, more insurers have folded, stopped writing new policies in Florida or put strict conditions on them.
Howle said one of the most painful clauses in the new law for insurance companies is the part that says they can't deny coverage to a homeowner with a roof younger than 15 years old. The companies did not want to have to cover roofs more than 10 years old, Howle said.
"It's a process, and there are those working against you, so what ends up passing is watered down. We saw that with the Vero electric issue. This is a step in the right direction, but much more needs to be done to make Florida a more hospitable place for insurers to do business," Howle said. "The way things are, it seems like they're pushing people into Citizens."
In 2020 and 2021, more than 200,000 property owners per year had to opt for what's known as the "insurer of last resort," the state government-backed, nonprofit Citizens Property Insurance Corporation, and that number reportedly is growing by roughly 7,000 new customers each week.
Citizens is viewed as a last resort because it takes so long to pay claims. Howle said he had a client wait nearly four years for a hurricane damage claim to be paid after 2005 brought storms Frances and Jeanne to Vero's doorstep.
Roger Lynch, a risk advisor with Brown and Brown Insurance on Beachland Boulevard, said he also sees buying insurance from Citizens as a measure to be avoided if at all possible. So far in his eight years in the insurance business, he said he has never had to write a Citizens policy. "We've always been able to find a solution," he said.
By insuring their northern or non-Florida homes and their Vero beachside homes with the same company, and even including their auto insurance in the package as well, Lynch said clients sometimes can get insured by a company that would not write a policy for the Florida home alone.
Even if they're desperate, many island homeowners can't sign on with Citizens because the state-backed insurer has a cap of $750,000 in insured value.
Lynch said he and his colleagues appreciate the attention state lawmakers have given to Florida's property insurance problems. "The fact that people are paying attention and Gov. Ron DeSantis called for the special session is positive. The fact that the legislature got something passed and there seems to be bipartisan support is positive," Lynch said.
Insurance premiums are not only the talk of Tallahassee, but the topic of conversation at clubs, on the golf course, or when island residents are at a function or out to dinner with friends.
"It's what everyone is talking about, and they're asking each other, what are you paying, and they compare," Lynch said.
But even two similar homes next door to each other can have vastly different insurance rates, so trying to compare can be frustrating. Lynch said what's inside the two houses could be very different, or one home could have upgrades to electrical or plumbing, reducing  the risk of costly damage claims.
A neighbor could have other insurance or other homes insured with the same carrier, or a very long-standing relationship with an insurer, which typically results in lower premiums. Every homeowner also has a personal "insurance score" which is much more than a credit score. It's a sort-of risk report card on that person, which includes their claim history, how much insurance they have and what types of property they have insured.
"Typically the high-value clients I deal with are not paying a whole lot of attention to their renewal notices because the renewals have been so nominal, but now the difference can be thousands of dollars," Lynch said.
Clients are also wondering what impact the new law will have on their next renewal notice, or on their chances of getting cancelled altogether and having to go out to a quite-hostile insurance marketplace to find new coverage.
Unfortunately, there are no definitive answers to those questions yet. Agencies and courts must develop rules and processes to carry out and enforce the new legislation, while evaluating the financial stability of insurance companies and enrolling the solvent insurers in the $2 billion reinsurance program.
"It's still unclear exactly how quickly relief will come, and how soon the changes will start to take effect," Lynch said.
The new law also provides matching grants to low-income people and owners of homesteaded single-family homes with an insured value of less than $500,000 to harden their homes against storms and other mishaps – a program unlikely to benefit many island dwellers with today's home values.