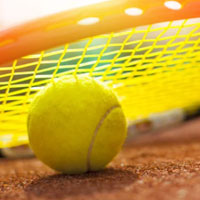 'Battle of the Pros' tennis exhibition to be held as fundraiser for local pro injured in auto crash
STORY BY RAY MCNULTY (Week of March 17, 2022)

For nearly 30 years, local tennis pros have rallied to the cause of improving the lives of the community's children, helping raise funds for the Youth Guidance Mentoring Academy by competing in the annual King of the Hill doubles tournament.
On March 29 at The Boulevard Tennis Club, they will play for one of their own.
Teaching pros from the Vero Beach area's clubs – including John's Island, Quail Valley, Sea Oaks and The Moorings – will participate in a "Battle of the Pros for Billy" in an open-to-the-public doubles exhibition to raise money to help Aquarina Tennis Director Billy Almeyda cover his medical expenses.
Almeyda, who spent six years as an assistant pro at Grand Harbor before taking the Aquarina job, was seriously injured in a head-on collision on State Road A1A on the morning of Feb. 16, while en route from his Sebastian home to the Melbourne Beach club.
According to Gigi Casapu, the longtime teaching pro who founded the King of the Hill event in 1996 and continues to run it, Almeyda suffered fractures to his hip, clavicle, ribs, jaw and nose.
Some of the injuries required surgery, Casapu said, but Almeyda has since been released from the hospital and is continuing his recovery at home, where he is working with a physical therapist and is "in good spirits."
He is not expected to return to work until late summer, possibly the early fall.
"A big part of a teaching pro's income is made on the tennis court, and Billy is going to be off the courts for at least four or five months," said Boulevard Tennis Director Christophe Delavaut, who was Almeyda's boss at Grand Harbor and helped organize the fundraiser.
"When we told the local pros what we wanted to do, there was no hesitation," he added. "Everybody wanted to help."
Mikael Pernfors, a former top-10 player and French Open finalist, is headlining the event, which also will feature Grand Harbor Tennis Director Marco Osorio, a former Davis Cup player for Mexico; Daniel Garza, who won the U.S. Pro Circuit tournament in Vero Beach in 2011; and former Moorings Tennis Director Robert Kowalczyk, who remains the only player to win the USTA Boys 18-and-over National Clay Court Championship twice.
Pernfors will team with Garza and represent The Boulevard for the event in which pros from the same clubs will be paired when possible.
"The level of play will be really high," Delavaut said.
The other teams committed as of Monday were: Lennart Jonason and Pavel Zhdanov (John's Island); Tyler Marengo and Raz Ilie (Quail Valley); Slim Hamza (Moorings) and Marco Osorio (Grand Harbor); Christian Docter (Sea Oaks) and Tyler Rios (Legacy); Robert Kowalczyk (Boulevard) and Yohann Prinsen (Twin Oaks); James and Joseph Van Deinse (Vero Beach Tennis Club).
The event is scheduled to start at 6:30 p.m. and employ an abbreviated scoring format in hopes of concluding by 8 p.m.
Spectators will be asked for a $15 donation at the door, and organizers also are seeking sponsors willing to pay $50 and receive premium seating.
Youth Guidance already has agreed to donate $1,000 to the event in a show of appreciation for the annual commitment made by the local tennis pros to its King of the Hill fundraiser.
"The pros have been so good to Youth Guidance over the years, and Billy always donated his prize money back to the charity," Casapu said. "Now that he needs help, Youth Guidance wanted to do something to give back to him.