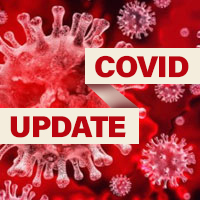 COVID-19 cases here decline to under 6 per day
STORY BY LISA ZAHNER (Week of March 31, 2022)

As a new stealthier virus subvariant causes surges in COVID-19 infections in Europe and lockdowns in China, cases here continued to decline last week to a daily average in single digits.
Indian River County had only 59 new COVID-19 cases for the week ending March 24, and on Monday, the Centers for Disease Control and Prevention reported an even lower number of 37 new cases for its seven-day moving average – fewer than six new cases per day.
For comparison, at the worst of this winter's surge, Indian River County reported 2,255 new COVID-19 cases here during the week ending Jan. 13.
Of the 37 new cases reported to the Florida Department of Health last week, the CDC said only two people with COVID-19 had been hospitalized. Hospitalization numbers topped 100 new admissions per week during the winter surge.
But the big question was:  How long does Indian River County have to enjoy very low virus transmission before the BA.2 subvariant – sometimes known as "stealth Omicron" – begins spreading rapidly in the Florida?
And the other question up in the air was whether a fourth COVID-19 vaccine shot – called a second booster – would be widely available for senior citizens before this new subvariant – 60 percent to 80 percent more transmissible than the BA.1 Omicron classic variant – causes a new surge in cases here. 
It takes at least a couple weeks for a booster shot to increase immunity.
People with certain serious health problems which put them at special risk for severe covid illness can already get the second booster, but not everyone who wants another booster meets the narrow criteria.
Who may be on deck next for shots was unclear as the week began. Both Pfizer and Moderna have petitioned the FDA to grant emergency approval for a fourth shot, Pfizer asking for people age 65 and older to be eligible and Moderna expanding its ask to cover all adults.
President Joe Biden said he wanted to make the second booster available to everyone over age 50, but other White House officials have said funds are only available to provide shots free of charge to those age 65 and older.
The White House said the program which funds covid vaccines for the uninsured will stop taking new claims on April 5, and will run out of cash in May.
Despite the low case positivity rate locally of about 2 percent, Indian River County residents are still concerned enough about COVID-19 to get tested in large numbers. Nearly 3,000 people were tested last week, but the affordability of that testing is now also in jeopardy, according to the White House.
The program which provided free COVID-19 testing to uninsured people stopped accepting new claims last week, and will be broke in April. That increases the likelihood that restaurant, retail and other part-time or contract workers who don't get employer-provided health insurance may not get tested if they are sick.
Right now, the federal government owns every dose of COVID-19 vaccine, but Moderna is considering launching its shot on the private market. If that happens, it's not clear if or how it would be covered by private insurance and Medicare – especially if a fourth shot (second booster) is permitted via an Emergency Use Authorization as opposed to full FDA approval.