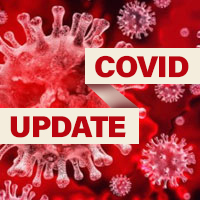 COVID-19 cases here drop to pre-Omicron surge levels
STORY BY LISA ZAHNER (Week of March 10, 2022)

New COVID-19 infections reported to the Florida Department of Health declined another 34 percent this week, approaching pre-Omicron surge levels, so the focus of public health officials has shifted from managing large numbers of COVID-positive patients to fast action for the most vulnerable.
As Indian River County is still in the green or "low" community spread category, the Centers for Disease and Control and Prevention recommends that anyone at risk of serious COVID-19 illness have easy access to rapid testing, and not wait to seek medical treatment upon testing positive.
The CDC also reminds anyone infected with COVID-19 to stay away from others – especially from those most vulnerable to serious covid illness – for at least five days, or while they still have a fever, or symptoms like sneezing and coughing that spread the virus.
Last week both the CDC and the Florida Department of Health announced an easing on precautions like indoor masking for most people, but still urged those concerned about COVID-19 due to their age or to pre-existing conditions to continue to protect themselves by being vigilant about social distancing, hand washing, wearing masks and staying up to date on vaccine boosters.
As of last week, 76 percent of Indian River County residents age 5 and older have been vaccinated.
Preventing the hospitalization of COVID-19 positive people is the key strategy now as case numbers continue to fall. In Indian River County last week, new hospitalizations dropped 20 percent from 10 to eight people hospitalized.
A Cleveland Clinic Indian River Hospital spokesperson said none of the eight patients currently hospitalized there with COVID-19 are in intensive care.
The local case positivity rate also fell to 4.1 percent, according to the Florida Department of Health, down from 6.2 percent last week, and 10.7 percent the week before. Ten percent of tests coming back positive has historically been the point where public health officials start to get worried about growing community spread.
Gov. Ron DeSantis held a roundtable discussion on Monday with Florida Surgeon General
Dr. Joseph Ladapo and 10 other physicians and medical researchers from across the U.S., Canada and Europe, including the doctor who developed the science of mRNA vaccines, to review what worked and what didn't in terms of COVID-19 policy two years into the pandemic's debut in Florida in early March 2020.
On March 11, 2020, the World Health Organization declared COVID-19 a pandemic. This coming Wednesday marks the two-year anniversary of the first "15 days to slow the spread" lockdowns announced on March 16 when restaurants and bars shut down just before St. Patrick's Day festivities.
Florida's leaders have kept the state's businesses, schools and recreational facilities more open than other states.
The experts around DeSantis' table, hailing from Stanford, Oxford, Yale, the Mayo Clinic, the University of California and other esteemed medical and research institutions, plus epidemiologists in private practice, a public health economist, primary care physicians from suburbs and an emergency medicine doctor from rural Louisiana, commented that lockdowns and school closures have societal costs that can be greater than the pandemic itself.
Overall, DeSantis said keeping Florida open has made the state a highly sought-after place to visit and to live. "Everyone wants to come here, we've never had more people moving in. It's hard to even find property now," he said. "I think people wanted to go to a free society. They wanted their rights respected but they appreciated that we were honest about the data."
DeSantis has been criticized throughout the pandemic for not disclosing all the data at the beginning. In response to these concerns, the state launched a daily covid dashboard with detailed statistics even down to the ZIP-code level COVID-19 infection numbers every day.
Then in 2021 the data became hard to come by again, county-level death rates stopped being reported by the day or week, and the federal CDC numbers rarely match those being reported by the Florida
Department of Health. Local death numbers and detailed county-level trend information with week-by-week demographic detail is still distributed to local healthcare professionals, but not to the public.