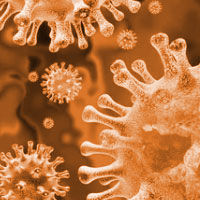 COVID threat greatest now for 65+group
STORY BY LISA ZAHNER (Week of March 17, 2022)

The pandemic continues to wane in Indian River County.
The number of new weekly COVID-19 cases here declined another 21 percent last week to just 78, and only four covid-positive patients were hospitalized locally during the seven-day period.
Statewide case numbers have plummeted as well, from 427,514 cases reported to the Florida Department of Health for Jan. 7-13 to 10,288 cases for March 4-10.
But the more interesting statistic this week was in the demographic portion of the statewide report. The age 65 and older group last week made up 25 percent of reported cases of COVID-19 statewide.
Looking at the past two years of case data, that same age group accounted for only 12.9 percent of cases since the start of the pandemic.
Historically, the two age groups accounting for the most Indian River County cases have been the 25-to-34- year-old group and the 55-to-64-year-old group.  But recently, people age 65 and older have accounted for slightly more than one in five new infections.
Are we simply seeing the snowbird factor? Are younger people using home test kits, and not reporting the results, or no longer getting tested when they have symptoms? Or are seniors age 65-plus, feeling freed by low case numbers and eased guidelines, letting their guard down?
It could also be a case of waning immunity from two-dose vaccination, or from boosters given to seniors last fall. Are younger people who have tested positive previously and recovered from COVID-19 infection enjoying a longer natural immunity than seniors fully vaccinated?
Only 39 people were vaccinated last week in Indian River County, so it could be that seniors are opting not to get boosted with case counts so low.
It's tough to tell because state reports do not give a county-level breakdown of two-dose vaccinated seniors vs. three-dose vaccinated seniors. But fewer than 27,000 people age 65 and older statewide have gotten a shot since the first of the year.
Going forward the state plans to only release COVID-19 status reports every other week, making it even more difficult to track trends.
As restrictions on the general public relax almost everywhere, the Centers for Disease Control and Prevention is focusing its COVID-19 messaging on those most vulnerable to serious covid illness, but the CDC and FDA have not recommended a fourth (second booster) shot thus far.