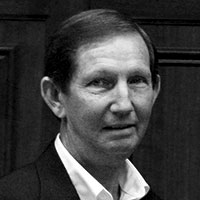 Craig Fletcher, 79, twice Vero mayor, urged electric sale
STORY BY LISA ZAHNER (Week of March 24, 2022)
Photo of two-time Vero Mayor Craig Fletcher.

In a tragic end to a life of service to his country, to science and to the City of Vero Beach, two-time Vero Mayor A. Craig Fletcher was found dead in his home Sunday evening. He was 79.
No matter what personal troubles dogged him in his last few years as he approached his 80th birthday in April, Fletcher will be remembered gratefully by many electric ratepayers from Indian River Shores to the far reaches of the South barrier island, and by restaurants and businesses on the mainland, too.
Fletcher, who served a total of eight years on the City Council, was one of the stalwart city officials who, in the early days, pushed the wheelbarrow of the Vero electric sale uphill, sometimes through the mud. After a tour in Vietnam back in his Army days, maybe Fletcher was primed for that fight.
Former Mayor Pilar Turner said Monday she was in shock about Fletcher's passing. "I am grateful for Craig's years of service to Vero Beach and his fervent support for selling Vero electric to FPL," she said.
An aeronautical engineer retired from McDonnell Douglas Missile Systems at Cape Canaveral, Fletcher routinely called the city's Big Blue power plant a "dinosaur" and urged the city to jettison the riverfront money pit before a catastrophe happened, exposing the city to financial peril.
Amy Brunjes, who served as FPL's external affairs director during the decade-long effort to purchase Vero's electric utility, said Fletcher was very smart and had a strong vision for Vero after the electric sale.
"He was definitely one of the earliest champions of the sale effort and he was not afraid to stand up to the naysayers. Craig had the technical ability and he saw that it could be done," Brunjes said.
"He always kept things close to the vest and kept everything in the public. He had an open mind and we often didn't know which way he was going to go, but he surprised us with his support for the sale."
When he advocated for selling the electric utility to Florida Power & Light, Fletcher's voice carried weight for two reasons – his technical knowledge, having worked nearly four decades as an engineer, and the fact that he was entrenched in Vero's old-guard community.
A multi-generation Vero Beach native and longtime McAnsh Park resident, one of Fletcher's grandfathers built the first bridge over the Indian River. And Fletcher's father also served as Vero's mayor. Fletcher could speak to the segment of the community that feared big changes as only one of their own could.
Utility activist Glenn Heran said Fletcher's affiliations and reputation bolstered the sale effort that was sometimes criticized as being imported by people from outside the city limits.
"Craig represented a group of 'Old Vero' people, many of whom were very reluctant to get on board with the sale," Heran said. "If you didn't have him on council at that time, you wouldn't have had his vote and you wouldn't have his base of support. Without guys like that, it wouldn't have gotten off the ground."
Fletcher's public life was not free of controversy. He faced a recall campaign during his tenure as mayor for his strong stance that the prayer said before Vero Beach City Council meetings should be offered by a clergy member of a religious organization – not by a Humanist group.
In 2019, Fletcher was arrested, and took a plea deal for probation in a special veterans' court, after pulling a firearm on a landscaper at his home. Police records from recent calls to the home suggest that Fletcher's life was increasingly distraught as of late, culminating in his death on Sunday of a self-inflicted gunshot wound.
He is survived by his longtime wife Arlene and daughter, Edith Collins, plus extended family.