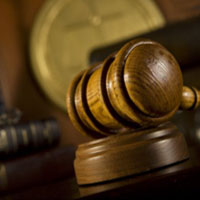 Detective says home nursing aide showed 'no remorse' in defrauding island seniors
STORY BY LISA ZAHNER (Week of March 17, 2022)

Indian River Shores Public Safety Detective Ken Barrett has seen just about everything in his nearly four-decade law enforcement career, but the case of former nursing assistant Chiquita McGee and her crimes against an elderly John's Island couple really got under his skin.
As lead detective on the case, Barrett felt strongly enough to write a letter to Judge Dan Vaughn, the 19th Circuit's criminal felony judge in Vero, asking him to hand down a "medium to harsh sentence" at McGee's March 24 sentencing. 
On Feb. 21, McGee entered an open plea of "no contest" to felony exploitation of the elderly and defrauding a financial institution, minutes before jury selection was set to begin in her trial for stealing from Michelina Martinelli and her late husband Alfred, both in their 80s. The Martinellis had been diagnosed with dementia while in the care of McGee and her sister and co-defendant Sophia Shepherd (aka Sophia Brown). Brown has yet to be tried.
The mandatory minimum sentence for the first-degree felony exploitation of the elderly plus the second-degree felony scheme to defraud a financial institution is 37 months, with the maximum sentence Vaughn could impose being 45 years.
"This case was very important to me due to the extreme and extraordinary measures Chiquita McGee took to exploit Mr. and Mrs. Martinelli at a time they needed care, compassion, love, and the utmost trust," Barrett wrote.  The letter was obtained by Vero Beach 32963 via a public records request.
Barrett was one of five Shores officers who worked on the case over many months, gathering bank records and travel receipts, talking to store clerks and obtaining search warrants while the two CNAs maintained their innocence.
Over the course of 10 months in 2017, court records show McGee made $259,000 in fraudulent transactions to a credit card in the Martinellis' name. Purchases included luxury hotel stays, casino junkets, exotic car rentals and cosmetic surgery. Barrett and Det. Rodney Grass have still not been able to recover $85,000 in cash obtained by McGee from the Martinellis.
"I have been in law enforcement serving this community for 39 years and have never seen such a totally dishonest person with total disregard for the family she was entrusted to care for with nothing but greed in her soul," said Barrett, 61, who retired at the rank of sergeant from the Vero Beach Police Department, then joined the town's police force.
"Chiquita McGee over the past three years insisted no crime was committed. She placed her own self-interest over that of the victims and their family," Barrett said. "Chiquita McGee shows absolutely no remorse for the betrayal she committed upon the Martinelli family and if she were not caught and arrested by members of the Indian River Shores Public Safety Department, I have no doubt her scheme to exploit and defraud the Martinellis would have continued indefinitely."
Assistant State Attorney Lev Evans said that Susan Shea, the Martinellis' daughter, is expected to testify next week via Zoom from out of state. She was set to appear at trial, as her mother is in long-term care and could no longer provide testimony for the prosecution.
Defense attorney James Regan did not return messages asking who might testify on McGee's behalf, or if anyone has written a letter advocating a light sentence for McGee. Both McGee and Shepherd have been free on bail while awaiting trial, their pre-release terms loosened so they could participate in activities and their children's schools.
Indian River Shores Public Safety Director Chief Rich Rosell said he has not yet decided how to dispose of the evidence seized in the case, which includes dozens of pairs of high-priced sneakers and dress shoes, clothing, jewelry, a television, iPhones and Apple watches.
Editor's note: Previous articles have identified McGee and Shepherd as having been employed by Indian River Home Care. The CNAs were initially placed with the Martinellis through that agency, but were employed directly by the Martinelli family.