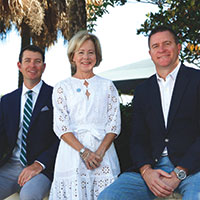 Douglas Elliman opens beachside office. Is top agent Fredrik Eklund on the way?
STORY BY STEVEN M. THOMAS (Week of March 3, 2022)
Photo: Joseph O'Neill, Sally Daley and Joseph Schlitt across from the future Douglas Elliman office.

New York residential real estate powerhouse Douglas Elliman announced last Tuesday it has opened a boutique office in Vero Beach with the goal of quickly becoming a dominant force in the 32963 luxury market.
The office launched with seven agents, including the complete team from Daley & Company Real Estate and The Josephs – Joseph O'Neill and Joseph Schlitt – with their associate Chris Mickley.
The office will be located next door to the Red Onion restaurant in the Park Place building at 3001 Ocean Dr. across from Humiston Park.
The space is being built out now with a goal of completion in late March. In the meantime, Daley and her agents will continue to operate from their current offices, listing properties and doing deals under the Elliman banner. The Josephs will operate from a temporary office.
Elliman's Florida CEO Jay Phillip Parker says Vero fits like a puzzle piece into the company's network of high-end markets and its strategy of having a strong presence in "places our clients want to be."
"We have been hearing about Vero for a long time," Parker told Vero Beach 32963 last week, noting that the chatter has increased during the pandemic migration.
"Clients from the Northeast, California and South Florida have been bringing Vero up more and more often."
Parker said the decision to open in Vero – which is a tiny market compared to places like Miami, Los Angeles and New York City, where Elliman has long been a powerful presence – was not based on analytics related to the number of luxury properties or sales volume in the area but on Vero's unique look, lifestyle and appeal to luxury buyers.
"After making a couple of pilgrimages up here from Miami to look around, we quickly realized that Vero Beach aligns perfectly with our strategy," said Parker, who oversees 22 Florida offices with 1,200 agents who closed $14.6 billion is sales in 2021, more than double the group's 2020 total.
"I was blown away by the beauty of the island and the depth of the charm. Vero is a very mature market with all the great restaurants and private clubs and gated communities. It is the kind of place our clients want to be, and we want to help other people who might not know about this special place discover and appreciate it.
"Our coming here puts a spotlight on Vero Beach that will likely contribute to a continuing escalation of prices. We will bring new high-quality buyers here. We want to help tell Vero's story and help shape the growth of the market."
Longtime island broker Daley got into the picture when a friend of Parker's introduced them.
"My friend told me, 'You have to meet Sally Daley,' and he was right. Our first phone conversation lasted an hour and when I got off I told my fiancé that I had never talked to anyone before who more perfectly aligned with our company. I was deeply impressed by the palette of real estate knowledge she brings to the table."
The same friend introduced him to Joseph Schlitt and Joseph O'Neill, who teamed up four years ago at Coldwell Banker under the heading Joseph & Joseph. They're also called "The Josephs," which evokes the moniker of the famous multibillion-dollar Miami real estate sales team long known as "The Jills."
Joseph O'Neill told Vero Beach 32963 that he and his partner have been open for a while "to the idea of joining a new firm that aligns well with our goals and marketing strategies.
"We wanted a firm with unmatched reach and strong influence amongst luxury buyers and sellers throughout the world's biggest markets. We also wanted a company that is located in other markets that would support ours to be able to refer and get leads to and from those locations."
He said they started talking with Elliman last summer and joined the company in early February, a couple of weeks before the Feb. 22 announcement about the new office here.
"Douglas Elliman liked that we are well connected and deeply rooted in our community," O'Neill said. "Our families have been here for over 80 years, and we have a comprehensive understanding of the local real estate market."
The Josephs' experience with new development was part of their appeal to Elliman, according to O'Neill. Parker told 32963 he wants to work with area developers to bring new product to the island market, and Schlitt and O'Neill have a track record in that area.
"We are constantly identifying new construction and development opportunities for our clients, developers, builders and investors," O'Neill said. "We do our best to find what a developer, client or investor is looking for and we are often involved in the entire process from land acquisition to the final sale.
"We believe it is important to work side by side with developers, builders, architects, and designers to help shape new inventory that will ultimately fit within our market conditions and be perceived well by buyers. Douglas Elliman has one of the largest new development portfolios in the world, they currently have over $87 billion of new luxury development that they will lease or sell throughout the globe."
Daley said she has been thinking about acquisition for the past five years, and that she has been approached by numerous real estate companies.
"When I spoke with Elliman it was clear they were the best fit for our office and Vero. Them coming here is a complement to Vero Beach that shows we have become an important Florida market. They want to be here because their clients are coming here.
"We chose to partner with Elliman for a host of reasons – their superlative reputation, their deep national and international networks, and their sophisticated marketing tools, to name a few.
"Perhaps most importantly, Elliman's corporate values of defining excellence by providing clients with unparalleled service as trusted real estate advisors aligns beautifully with our core corporate values.
"When I first made the five-year plan, Douglas Elliman was one of two brokerages I thought would be the best fit for us, so it is cool to see that come to fruition. I also think it's kind of cool that we launched on Feb. 22, becoming the company's 22nd office in Florida on 2-22-22!"
Daley will have a leadership role at the new office as senior recruitment advisor, reporting to Parker.
"I am very excited to help Elliman understand the market and grow their presence here as an important new player in the luxury market on the island," Daley said.
Her company closed $135,359,296 in sales in 2021, up from $96,115,304 in 2020.
According to Elliman's press release, the Joseph & Joseph Team ... "has sold over $350 million in total sales volume since it was formed four years ago," and O'Neill said the partners volume was up 30 percent in 2021 compared to 2020.
Parker said the new office the two teams will share on Ocean Drive will have "a little bit different format. We are looking to create a less formal environment that is a comfortable place for agents to meet with clients. With agents working mostly from home now, the office has a different purpose than it used to have. We want to make the space inviting for people to come in and see us."
Parker says he is in conversation with several additional Vero agents who he hopes will end up bringing their expertise and talents to Elliman's new office, but his vision for growth is not a big office with lots of agents.
"We believe in growth that comes from helping agents do better more so than by getting more agents," he said. "I would rather help an existing agent double their business than hire another person. We want to be an inch wide and a mile deep in the luxury market here."
Parker and Daley know they are launching into a market with historically low inventory, but they are confident they can build the business they envision despite that challenge.
"The increase in demand is off the chain," says Daley. "And I don't think it is going to stop. Boomers are getting older, there is more and more work from home that allows people to live where they want to, and we have a uniquely attractive low-rise lifestyle. Those low-growth decisions made by community leaders years ago are coming home to roost in good way.
"Inventory is going to remain a challenge, but creative and smart agents figure out how to put buyers and sellers together, whether a property is on the MLS or not."
"Prices will bring buyers to markets eventually," says Parker. "When people see that they can achieve a certain result with the sale of a property, they will put it on the market, and we are excited to help those people relocate – maybe not in Vero but close to Vero or someplace else they want to be.
"Directing people to new markets – that is the way our ship sails. Someone who has a home in Miami they paid $1 million for that is now worth $10 million may want to take their chips off the table and explore a new market like Vero.
"I think when we look back a year from now, you will be fascinated by how quickly we have" gained ground in the luxury space, he said. "We are very respectful and want to get along with everyone, but I am also competitive, and I want to win!"
"They will help us be more successful in reaching those feeder markets and allow us to accelerate and improve," Daley said. "We have already heard from many Elliman agents in other markets, welcoming us to the family. As we build relationships with those agents our referrals will increase. I can't wait to see what the future holds.
"Luxury has a new home in Vero Beach!"
Douglas Elliman is a 111-year-old company that was listed on the New York Stock Exchange on Dec. 30, becoming part of the S&P SmallCap 600.
The sixth largest brokerage in the U.S., Elliman operates in eight states that fit into its strategy of deal flow both within and between markets. "Nationwide sales totaled approximately $51.2 billion in 2021, with approximately 32,400 sales transactions," according to its website.
The company also has a powerful international referral network via its longstanding alliance with Knight Frank, an international luxury real estate firm with more than 300 offices in 51 countries that can funnel wealthy buyers to U.S. markets.
Most of the top agents that appear in "Million Dollar Listings Los Angeles" and "Million Dollar Listings New York" – including Fredrik Eklund, Josh Altman and Josh Flagg – are Elliman agents, which has added to the company's cachet in recent years.