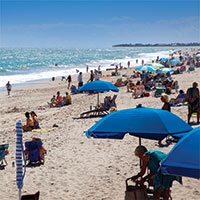 Economic impact of tourism here at all-time high
STORY BY RAY McNULTY (Week of March 3, 2022)

This is no secret to anyone who has spent time sunning on the island's beaches, dining in its restaurants and especially visiting its hotels: Tourism is booming here.
"More and more people are choosing to vacation where we live," said County Commissioner Joe Flescher, who serves as the chairman of the county's Tourist Development Council.
So many tourists are flocking to the Vero Beach and Sebastian areas, in fact, that Indian River County officials expect to see annual bed tax revenues reach $4 million for the first time this fiscal year.
"We're at an all-time high now, and the numbers have been headed there for a while," said Flescher.
According to the latest numbers provided by the TDC, bed tax revenues for the first quarter of the 2021-22 fiscal year are up 49 percent – more than $330,000 – over the previous year.
That's 85.7 percent, or more than $475,000, above the TDC's budgeted projections for the quarter, which began in October and produced record-high collections in each of the three months.
December bed tax revenues soared from $274,392 in 2018 to $397,372 this past December.
Even with the COVID-19 pandemic wreaking havoc across America in fiscal year 2020-21, the county's bed-tax revenues hit an all-time high of $3.65 million. The only other time collections surpassed $3 million was in fiscal year 2017-18, when room nights generated $3.02 million.
"When you consider that those millions are generated by a 4-cent tax," Flescher said, "that's a lot of room nights."
Flescher said the annual economic impact of tourism in the county has exceeded $60 million and is rapidly approaching $70 million – a significant sum for a community that lacks theme parks and other high-profile attractions.
What we do have, he said, "is an environment that is coveted by people looking to decompress and unwind and enjoy a true rest-and-relaxation vacation."
Bed tax revenues are used to fund tourism development agencies and efforts, beach restoration projects and the county's lease obligations at the Jackie Robinson complex.
For every 4 cents collected, the county designates 1 2/3 cents for tourism development agencies such as the Indian River County Chamber of Commerce, 1 5/6 cents for beach sand replenishment, and ½ cent for the Jackie Robinson complex lease obligation.
Flescher attributed the surge in bed-tax revenues to "many factors," including the marketing done by the TDC's tourism partners – particularly the Indian River County and Sebastian chambers of commerce – and activities at the Jackie Robinson Training Complex.
He also noted the addition of new hotels in recent years and the spike in room rates in recent months.
"We've seen an increase in the number of hotel rooms for years now, and they're quality hotels that offer nice facilities and amenities," Flescher said. "We've also seen room rates increase significantly. Rooms that were $149 or $229 a night are now $459 per night or more.
"I guess when a place is worth going to, price isn't a factor," he added, "and the reputation of our hotels and beaches – and especially our community – certainly have played a role in what we're seeing."
Another factor Flescher cited was the creative way the TDC's tourism partners seized on Florida's open-for-business strategy to promote the county as a tourism destination during the pandemic.
"Even locally, we embraced policies that were considerably more open than other parts of the nation, including those communities to the south, and people gravitated toward us," Flescher said.
"A lot of people decided, 'Hey, let's go to Vero for the week,'" he added. "As a result, we saw an abundance of people on our beaches, in our restaurant and in our hotels."
Flescher believes more than a few of these tourists have decided to move here, contributing to the county's real-estate boom.
"It's like test-driving a car," he said. "People spend three days here and they know this is the place to live."