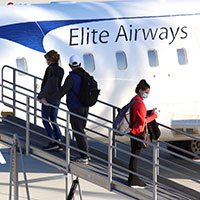 Elite Airways again flying from Vero Beach Airport
STORY BY RAY McNULTY (Week of March 31, 2022)

Elite Airways last week resumed its wildly popular, commercial-jet service between Vero Beach and Newark, returning to town with a schedule that now also includes year-round flights to and from Portland, Maine, and White Plains, New York.
The boutique carrier had temporarily moved its Vero Beach service to Melbourne in September to accommodate a runway resurfacing project at the Vero airport.
"So far, the loads have been very good," Vero Beach Airport Director Todd Scher said Monday. "The number of passengers has been in the 40s, which isn't bad, considering our security program currently limits us to 50 seats.
"We're seeing almost-full flights."
Elite customers also will notice a slight change in the airline's schedule, particularly for service connecting Vero Beach and Newark. The airport here will no longer see those flights arrive and depart the same days.
While Newark-bound flights will depart from Vero Beach on Mondays and Thursdays, the return flights are scheduled for Tuesdays and Fridays.
The lone exception is the Easter-week flights Elite has added – on April 15 and April 22. On those two Fridays, the airline is offering same-day service between Vero Beach and Newark.
Elite's flights from Vero Beach to Portland will depart on Saturdays, while flights from Portland to Vero Beach will arrive on Sundays.
Elite's service between Vero Beach and White Plains, however, is limited to Wednesdays.
Scher said he didn't know why the airline changed its schedule, and Elite president John Pearsall could not be reached for comment.
Pearsall said last fall that Elite planned to offer seasonal service between Vero Beach and Asheville, North Carolina – a once-popular route that hasn't been offered the past two summers because of the COVID-19 pandemic – probably starting in May.
However, Asheville is not currently included on the Elite Airways route map.
"They haven't told us their plans," Scher said, "and they really don't have to."
The runway shutdown was necessary for the city to embark on an $8.5 million resurfacing project, primarily paid for with funds provided by the Federal Aviation Administration and Florida Department of Transportation.
The runway was reopened on Feb. 28, and Elite flights returned to Vero Beach last Friday.
Elite began flying between Vero Beach and Newark in December 2015.