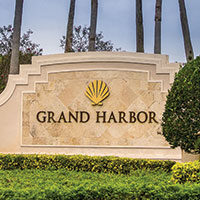 Grand Harbor: Riverfront club 'experiencing a renaissance'
STORY BY STEVEN M. THOMAS (Week of March 17, 2022)

New development is gearing up rapidly at Grand Harbor where two prime clusters of lots have been sold in the past three weeks, putting 64 new homes in the pipeline.
A third parcel with 78 additional homesites was just listed for $18 million by ONE Sotheby's broker associate Michael Thorpe.
The burst of land sales and impending building activity comes amidst a major rebound at Grand Harbor, where members 14 months ago took over control from billionaire Carl Icahn, bringing a new sense of optimism and ambition to the community, according to Thorpe and club manager Michael Gibson.
Millions have been spent on facility upgrades, with more projects in the works, and membership has grown from about 580 to nearly 750, according to Gibson.
"Grand Harbor is experiencing a renaissance," said Thorpe. "Having the members take over the ownership and future of the club is a wonderful thing that has a big psychological impact. They have taken charge of their own destiny, and everyone is happier now. The buy-in has been tremendous."
Gibson said new development will add impetus to the upswing.
Thorpe, who sold the first two clusters of lots, said he is in discussions with builders big enough to close on the 31-acre property he is now marketing.
"Every small builder in town would love to get their hands on those lots, with inventory as tight as it is, but most of them don't have the resources," Thorpe said. "Eighteen-million dollars is a big number."
GHO Homes bought the first sold parcel, which consists of 42 finished lots in The Falls subdivision within Grand Harbor. GHO president Bill Handler said he plans to start construction by late summer, as soon as he can get permits, and expects to offer homes for sale before building begins.
The second sold parcel – an exceptional piece of riverfront property with room for 22 multimillion-dollar detached villas – was snapped up by Laguna Vero Development, LLC, an entity controlled by Winter Park developer Shane Acevedo.
"The stimulation and marketing value that comes to a community and club when all at once they start building is significant," Gibson said. "It puts us in a place we haven't been in in a long time."
All three parcels listed by Thorpe belonged to GB Vero Beach Development, an entity controlled by Icahn, who bought Grand Harbor in 2004.
They were listed as a package, along with two other parcels, with CB Richard Ellis for a year or so, and there were rumors of a purchase deal last summer, but nothing materialized.
Thorpe, who had sold homes for GBVB in several Grand Harbor subdivisions, and who has a long track record of subdivision land sales on the island and mainland, got the listings in November and convinced the seller to offer them a la carte.
"CB Richard Ellis tried to sell it all as one big bundle and they had some interest and some offers, but it is a challenge because there were a range of very different home types in the package, from ultra-luxury on the riverfront to mid-market to entry level, and one builder isn't necessarily prepared to build all those products."
Thorpe has a dense rolodex of builder, developer and investor numbers from 40 years of doing land deals in and around Indian River County and once the ala carte parcels were in his hands, contracts came quickly.
The 7.1-acre Falls parcel went first, to GHO Homes, which closed on the property on Feb. 23, paying $4.2 million for the 42 finished lots, which will be the final phase of the subdivision.
"When Michael calls, I always pick up because he always has good stuff," said Handler, who will include a prepaid social membership to the club in the purchase price of his homes.
"We are going to work closely with GHO and collaborate in a number of ways to market the new homes and boost the club," said Gibson. "They are very much interested in selling the grand lifestyle we have here, and we couldn't be more excited to work with them.
"Bill Handler is a very sharp guy, and he is building all over the place, and since we now admit members who live outside the Grand Harbor gates, we hope to attract new members from other GHO communities besides The Falls."
Handler said the new homes in The Falls will be "about 2,000 square feet." They will look like existing homes in the subdivision on the outside but have redesigned interiors "to freshen them up and make them more current."
Pricing has not been determined, due to the ongoing interior design process and changing material costs and market conditions. In 2021, two-bedroom homes in the subdivision sold for prices ranging from $518,000 to $720,000. Zillow values the $518,000 home at $650,000 today and said the $720,000 house is now worth $846,000.
The 4.2-acre luxe riverfront parcel closed on March 10 for $9.8 million, which was over the asking price. It has 17 large waterfront lots with approximately 100 linear feet of river frontage and phenomenal views of the Intracoastal Waterway and undeveloped preserve land across the water, along with five lots not on the river.
"The deal went quick," said Acevedo, who is managing partner at Laguna Vero Development. "We got it done in a month."
Acevedo said he hopes to start construction in four to five months and deliver two-story, 3,500-4,000-square-foot luxury homes a year after building gets underway.
"We are putting together floor plans and models now, including a West Indies model and coastal model. When the plans are done, we will be applying for permits and going before the Grand Harbor architectural review committee. We will work closely with the committee to come up with an architectural style that suits that amazing waterfront site in Grand Harbor."
The houses will be built by Orlando builder Meridian Homes. Sales will be handled by the Rita Curry Team at Dale Sorensen Real Estate, with prices starting at $2,995,000.
Acevedo said he just discovered Vero and its red-hot market, and considers it an "incredible" find.
"I am pretty impressed," he said. "It is essentially a less expensive Jupiter. Vero is just as beautiful and desirable as Jupiter, but homes on the river like the ones we are building in Grand Harbor would be three times as much down there.
"We are very excited to be entering the Vero Beach market."
The third parcel, which is listed but not sold, includes 78 lots and will be the final phase of The Reserve at Grand Harbor. In 2021 existing homes in The Reserve sold for between $900,000 and $1.3 million. The $900,000 home is valued by Zillow.com at $1.2 million this week, while the value of the house that sold for $1.3 million is now guesstimated by the online real estate information and sales site at $1.64 million.
Thorpe said new homes in the three subdivisions will benefit Grand Harbor in a range of ways.
"They will get fees when the houses are complete and have more people paying into the overall HOA," he said.  "And, of course, they will get a lot of new members in the club which will mean more money to work with and fresh blood, which is a good thing in a community that is 35 years old at this point."
"We believe people are going to buy these new homes in the Falls and Laguna because they want the lifestyle we have created at Grand Harbor," said Gibson. "We have been working very hard since we became independent 14 months ago and are in a perfect position to welcome new residents and club members."