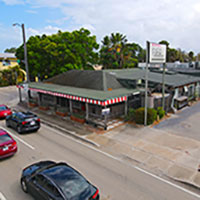 Historic Patio may soon be filled with diners again
STORY BY STEVEN M. THOMAS (Week of March 10, 2022)

The historic building in Vero's old downtown that long housed the Patio Restaurant has been sold to a prominent Boca Raton restaurant broker who plans to lease it out to a new operator.
Athan "Tom" Prakas, owner of Prakas & Co., bought the property from Patio Restaurant of Vero Beach, Inc., paying $600,000 in a deal that closed on Feb.17. It was listed with Billy Moss at Lambert Commercial Real Estate for $950,000.
"We have people looking at it and we hope to see it back in operation three or four months from now," Prakas told Vero Beach 32963. "I think it would be perfect for a Mexican place. Could also be Mediterranean or Italian."
Built in the 1930s by iconic Vero Beach developer Waldo Sexton, who also built the Ocean Grill and Driftwood Inn on the island, the colorful, quirky building at 1103 21st St. had been in the Sexton family for more than 80 years at the time of the sale.
During its heyday as The Patio Restaurant, the spot was a popular hangout for Dodger players during spring training and for the dining public year-round. The business faltered during the Great Recession after more than 50 years as a Vero Beach landmark.
Since then, several restaurants have come and gone at the location. The last one, a seafood place, closed two years ago and the building has been vacant since then.
"We didn't really want to sell it," said Michael Sexton, great-grandson of Waldo Sexton and president of the family holding corporation that owned the restaurant. "But we tried for two years to find a good tenant to take it over and couldn't and it became difficult to keep carrying it, maintaining a vacant building.
"Hopefully, the new owners will be able to find the right person who can make it a success again. They have assured us they want to keep it as restaurant and that made it a little easier for us.
"I would love to love to be able to go in there someday soon and have a great dinner and enjoy the atmosphere we all remember and marvel at how well the place is doing. It was in our family for a long time, and it means a lot to us."
Sexton and Prakas both said the building needs a significant amount of work to refurbish it and bring it up to code before a new restaurant opens there.
When one does, it will face at least three challenges that contributed to the failure of previous efforts at the site – the building's size, age and location.
The 5,000-square-foot restaurant has five dining rooms and seats 250, plus 50 at the bar, as now configured. The utility bills were over $5,000 a month in 2012 when island restaurateur Leanne Kelleher, owner of The Tides, had a short-lived eatery at the spot. She said at the time that she "had to fill all those seats twice a day just to pay the costs for a restaurant that big."
In addition, the building is somewhat marooned along a less-than-garden-like stretch of U.S. 1 between the busy Miracle Mile restaurant and retail district and downtown Vero, and is not easily walkable from either area.
But it also has a lot going for it. Instead of just bringing a lessee or buyer to the table, Prakas and a partner from Philadelphia bought the building themselves because he likes the stand-alone location on a busy road and believes Vero is an "up-and-coming place" with great potential.
He said the building's history adds value, too. "It is a famous icon in Vero Beach and has sentimental value to residents."
And if anyone can find the right dining concept for the building and put together a winning deal to get it up and thriving, Prakas is probably that guy.
"He is one of the biggest restaurant brokers in Florida," says Moss. "I'd heard of him when I was still working in Chicago."
Prakas has been in the business since 1991, and judging by his website and reports in industry publications, he knows the restaurant business inside and out, having brokered deals for more than 130 top restaurant brands and investment groups.
He was a main mover and shaker in the early franchise expansion of upscale craft hamburger brand Burgerfi, according to South Florida Business Journal. Burgerfi has since grown to include 120 locations and was ranked No. 9 in Fastcasual.com's Top 100 restaurant brand list in 2020.
"We do about 40 restaurant deals a year," said Prakas, who has offices in Boca Raton and Orlando. "That is one every 10 days or so."
With that kind of track record and the industry savvy it implies, Vero residents can be realistically hopeful that Prakas will bring a winning concept and operator to the building he now owns with his partner.
"The place has an aura about it; you can feel the history when you walk in," Moss said. "It just needs what a lot of restaurants need – the right operator."
"I took a piece of it because I believe in Vero's future," Prakas said.