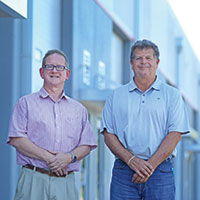 Island residents with 'classic cars and other toys' power luxury storage boom
STORY BY STEVEN M. THOMAS (Week of March 31, 2022)
Photo: Joe Schulke and Vic Lombardi, developers of the luxury storage facility on U.S. 1.

By the time partners Joe Schulke and Vic Lombardi got site plan approval for their third luxury storage project two weeks ago, island residents had already reserved more than a third of the available units – and remaining spots were going fast.
"110 percent," Lombardi told Vero Beach 32963 when asked what percentage of his buyers live on the barrier island. "Seriously, almost all are from the island. I think we might have two so far who aren't."
"The people on the island are impacted by the ocean," said Schulke. "Their classic cars and other toys are detrimentally affected by salt air. They like the idea they can get their treasured items off the island and out of that corrosive salt environment."
Besides providing super-secure storage for vintage Corvettes, valuable boats and luxury RVs, the solid concrete units – which range from 880 to 1,320 square feet and cost between $199,000 and $319,000 – are designed to serve as hurricane shelters for the owners.
"The structures are built beyond code requirements – as close to 'hurricane-proof' as possible – and located outside the limits of flooding and storm surge," according to the project website. The partners "expect many beachside residents to use their MotorHaus 2.0 units as a hurricane refuge during evacuations of the barrier island."
But it is not like owners and their families will have to try to nap on a cold concrete floor beside their belongings until the storm blows over.
The units are set up to be customized as luxurious hangout spots with hardwood floors, mezzanine levels, bathrooms, kitchenettes, wine bars and big screen TVs. Lombardi says some buyers in the two earlier projects "really decked their units out."
The buildings have backup generators, like hospitals and police stations, that owners can connect to for a fee, so they can ride out a big blow in comfort, with lights, air conditioning and snug inside 7 ½-inch-thick, steel-reinforced concrete walls, beneath steel roofs.
Lombardi, a prominent island builder, and Schulke, one of the busiest engineers in town, are also pitching the storage units as good investments.
They note that units can be leased out for income, appear as a solid real estate asset on a personal balance sheet, and potentially have tax benefits. Based on recent sales and market conditions, they are likely to appreciate.
"We have had some resales in the first project," said Lombardi. "A unit we sold in 2019 for $180,000 resold for $270,000, and one we sold for $250,000 resold for $310,000. We think that shows the value of ownership and the strong demand for storage space."
Lombardi said he is close to a deal, which he expects to sign this week, to sell an entire six-unit, 5,000-square-foot building to a single island buyer who wants it for personal storage and investment purposes.
Put it all together and the commercial condo units at Motorhaus 2.0 are attractive to financially savvy island residents who need extra space.
But the builder and engineer knew that going in – which is why they decided to make the third storage project larger than the first two combined, with 98 units, a carwash, an RV waste dump and other features.
Schulke discovered the untapped market niche when he and some of his partners at Schulke, Bittle & Stoddard were searching for an ideal place to store and work on their classic cars back in 2018.
When they couldn't find a suitable place, they decided to build the product they were seeking, judging correctly that other "car guys" would want in.
The group bought 2.8 acres of vacant land on 12th Street, paying $420,000, and created a plan for a development they named Autohaus with 37 oversize units.
They chose the German-sounding name because so many high-end cars – Porsche, Audi, Mercedes, BMW – are German and they thought it "would strike a chord with potential buyers." They chose the location because of its proximity to the 17th Street Bridge, making it a quick hop for the island collectors they saw as their primary market.
Schulke said 27 of the Autohaus units were sold by the time the project was complete and the rest sold out within four months.
Seeing that success, Schulke teamed with Lombardi to do a second project on a narrow strip of land along U.S. 1 between 41st Street and 45th Street, which they called Indian River Motorhaus.
That 17-unit project sold out before the walls went up, bringing a happy feeling to the developers' hearts and inspiring them to launch a third, much larger venture.
The original Motorhaus had two benefits besides profitability for the partners.
Because of its location on heavily trafficked U.S. 1, the sign in front generated a flurry of leads that continued after the project was sold out.
Cool architecture isn't something usually connected with storage buildings, but the partners hired Ken Labron at Caribeño Architectural Group in Melbourne and collaborated with him to come up with a sleek, Bauhaus-inspired gray and red design that jibes with the project name and turns heads along the busy highway.
"It is not the kind of building we usually design but it turned out to be a fun project," says Labron, who's also designing the latest project. "Vic and Joe are both great guys and they had a vision that we were able to bring to life. It was a positive experience for all of us."
"By the time we found the property for Motorhaus 2.0, I had 50 or 60 names, phone numbers and email addresses," said Schulke. "As soon as we had the marketing material together, it went out to all those people. That gave us a strong head start that nobody else would have had."
In addition, the partners are using a unit at the U.S. 1 location that they kept for their own storage purposes as a model for the upcoming project, which is only a quarter mile away.
They have it set up with two great-looking 1970s corvettes that Lombardi owns – the red one a car lift above the midnight blue one – and a BMW that belongs to Schulke, along with a seating area.
Pretty handy.
The partners put the Motorhaus 2.0 site under contract in June, did their due diligence, and closed on it in November, paying $950,000 for the 6.4-acre parcel.
They plan to clear the land in April and start construction in May.
Schulke says it will take 12 to 14 months to complete 66 first-phase units, meaning people will move in next summer. Phase 2, with another 32 units, will be done eight months after that, in early 2024, if all goes to plan and the market stays strong.
The partners say most of their buyers so far are car collectors, but a few are seeking RV storage and others will store business-related inventory, including furniture used to stage houses.
Units can't be used as a business address and no active business can be conducted there.
Aside from the fortress-like build quality, with tilt-up, steel-webbed concrete walls, and the sheer size of the units – the largest ones are as big as a small house – the partners cite a number of features they feel make the project desirable.
The facility will be fenced, with individual gate codes required for access, and the compound will be under video surveillance 24 hours a day, viewable from a computer or smart phone. Aisles between buildings will be 50 or 60 feet wide, allowing plenty of room for maneuver with large vehicles.
Unit garage doors are 12 or 14 feet wide and 14 feet high, and units have individual 100-amp electric panels, fire alarms and are internet ready. They are pre-plumbed for bathrooms and RV hookups, and come with floor drains to contain oil or spilled fuel.
Included in the marketing materials is a page of to-scale sports cars, sedans, trucks, boats and RVs that can be cut out and arranged in scaled unit drawings to get a sense of how much space a buyer might need.
The partners say the project's location is another big plus. It is 10 minutes or less from both the Wabasso and Barber bridges, and only a few minutes more from the 17th Street Bridge, convenient to the island.
Twenty-seven of the 66 first phase units were reserved or pending as of last week, and if Lombardi gets a check this week for the 6-unit building, half of the spaces will be off the table.
Reservations, which require a 5 percent, fully-refundable deposit, will be converted to sales contracts in the next month, when the condominium documents are recorded. Another 5 percent will be due with the contract along with an additional 20 percent when work begins. The balance of unit cost will be due at completion.
Even thought the future seems particularly uncertain at the moment, Lombardi and Schulke are looking ahead to another luxury storage project.
"We have our sights set on a number of pieces of property," says Lombardi. "We haven't bought anything because there is no sense inventorying high-priced land this far out.
"At some point, as this project gets further along, we will take a snapshot of conditions – building costs, land costs, the state of the market – and decide what we want to do."