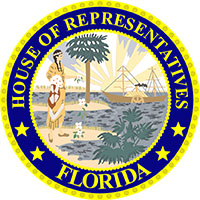 Newcomer Hiltz to challenge Brackett for legislative seat
STORY BY RAY McNULTY (Week of March 10, 2022)

Sebastian resident Karen Hiltz, a conservative Republican who served in the U.S. Navy for seven years and held several civilian jobs in the federal government before earning two graduate degrees, has filed to run for the Florida House of Representatives District 54 seat currently occupied by Vero Beach's Erin Grall.
Thus far, her only opponent is Vero Beach Mayor Robbie Brackett, a fellow Republican who announced his candidacy for state office in December.
"We've met and it was friendly, but I don't really know her," Brackett said. "It's an open seat and we're both Republicans, so it ought to be an interesting race. But I have a track record, and we're going to focus on our campaign – not my opponent's."
Grall, who is closing out her third term in the House, announced last month that she will seek the Florida Senate seat representing a newly drawn District 25, which will include all of Indian River, Okeechobee, Highlands and Glades counties, along with most of St. Lucie County.
State Sen. Debbie Mayfield, who represented Indian River County in the House from 2008 to 2016 and in the Senate the past six years, has said she will run for a newly drawn District 19, which covers Brevard County south of Titusville.
Under the redistricting plan adopted last month by the Florida Legislature and approved last week by the state Supreme Court, the seat sought by Hiltz and Brackett will include all of Indian River County and southeastern Brevard County – south of Malabar Road, east of I-95.
Hiltz, who is a member of both the Republican Executive Committee and Republican Women of Indian River, said she believes in public service, which explains her decision to enter the military and, later, serve on two school boards and a planning and zoning commission in southwestern Virginia.
She said she decided to run for the state House after being asked to do so by members of the community.
"I've been in public service much of my life – in the Navy, on school boards and throughout different stages of my career," Hiltz said, referring to civilian positions with the Naval Regional Contracting Center in England, Office of Naval Research, Defense Information Systems Agency, U.S. Customs Service and U.S. Capitol Police.
"Now, I've reached the stage of life where I'm ready for a more senior opportunity," she added. "I was interested in the state legislature in Virginia, and I was planning to run there, but we decided in 2019 to move to Florida.
"So, after being asked to run, talking to my husband and children and praying about it, I decided to go for it."
Hiltz said she believes her military, work and governmental experiences – along with her background in education – provide her with the knowledge and skills needed to serve successfully in the Legislature.
She holds a bachelor's degree in management from Chaminade University in Hawaii as well as a master's in business administration from Marymount University and doctorate in education from Lynchburg College, both in Virginia.
It was in Virginia that she taught as a professor on the undergraduate and graduate levels, served on a college advisory board and began working with school-related nonprofit organizations as an advocate for quality education.
Hiltz said she has written numerous articles on education for newspapers and online news outlets and authored two books. She continues to speak as an education advocate here, endorsing parental rights and efforts to make the state more responsive to the needs of local school districts.
In fact, Hiltz said she was asked several times to run for a seat on the Indian River County School Board, but she believes she can make a greater impact in Tallahassee.
"For over a year, people have been asking," Hiltz said. "And I did enjoy my service on the school board in Virginia. It's very challenging, and I enjoy the policy aspect. But the local level is more about how it's implemented.
"It's at the state level where education policy is made."
Those policies, she continued, can dramatically affect the community far beyond the classroom.
"I've found that a quality education is at the heart of every aspect of our communities, including economic development, job growth and infrastructure," Hiltz said, adding that, if elected, she also would push the Legislature to better assist local governments with critical issues, including management of water resources.
Having been elected to one public school board in Virginia, Hiltz isn't a political newcomer. Her civilian work as an acquisition and procurement professional for federal agencies – she oversaw multimillion-dollar expenditures – gives her an understanding of government operations and familiarity with legislation.
But she's a newcomer to politics here, and she lacks the local name recognition of her opponent.
"We're working on that," Hiltz said. "There are a lot of people in Indian River County who already know who I am, but I'm looking forward to getting out in the community to let everyone know who I am and what I stand for.
"I have a team," she added, "and my campaign strategy will be boots on the ground."
Hiltz said she appeared at a meet-and-greet last week in Barefoot Bay, and she has scheduled other such events at John's Island and in Sebastian. She has not yet received any endorsements.
"We're just coming out of the gate," she said.
Hiltz's husband, Chuck, is a retired U.S. Marine who served for 22 years. They have three children, four grandchildren and two great-grandchildren.
Hiltz said she and her husband have lived and worked in several U.S. cities and abroad on various military bases and in federal facilities, so traveling to the state capital wouldn't present any hardship.
"Beginning with my time in the Navy, service to my country and community has been an important part of my life," she said. "I see representing my home district in Tallahassee as the next step in that commitment."